As we adjust to the new "normal" in the age of COVID-19, nonprofit and higher education fundraising teams are adjusting as well. Hosting an in-person gala, organizing a marathon or meeting face to face with donors are things of the past (for now), and organizations must find new ways to augment these usual fundraising methods. Nonprofit organizations and institutions across the country are now turning to a solution that has long been seen as a supplementary form of fundraising revenue or a once-a-year event – crowdfunding. With a little hard work, some simple math and the strength of a community, crowdfunding can be an incredible form of fundraising income for your organization or institution all year long.
Here are 7 steps to make sure your next crowdfunding campaign is a success:
1. Start early
Your crowdfunding campaign starts at least 1 month before your page officially "launches." During the month leading up to your campaign launch, you will collect contact information for everyone you intend to solicit, segment your lists by audience, organize peer-to-peer fundraisers (see step 5) and start pre-soliciting your audiences by reaching out to those supporters you think are most likely support you, explaining your cause and asking if they'll commit to making a gift when your page launches. This is also a great opportunity to recruit peer-to-peer fundraisers! Experts say you should have between 30-50% of the gifts you need to reach your goal committed BEFORE your campaign even starts. Crowdfunding campaigns are all about momentum, so ensuring that you can get to 50% of your goal early in your campaign will make you much more likely to succeed (see step 4 for goal setting strategies).
2. Create a varied communication plan
Getting your communication plan worked out before your campaign starts is another great way to set yourself up for success before your campaign launches. Start with the basics, drafting as many emails and posts as possible with varied messages for different audiences, but know that you'll also need to draft new posts and messages with updates as your campaign progresses. Just asking your donors to "give now" over and over will get old quickly, but focusing on individual stories and varying your content media with photos and videos will keep your donors engaged. Videos don't have to be high tech. Especially in these times, taking a one-minute video on your phone is more acceptable than ever! Make sure to keep all communications concise. For emails, try to stick to the 3 paragraph rule and always have a clear path of action. That action should be to give, first and foremost, accompanied or followed by the ask to share your campaign with their personal networks. You should also draft email templates for your peer-to-peer fundraisers and be prepared to send out weekly communications to your fundraising team with weekly tasks for how they can help your campaign succeed.
While mass emails and social media are extremely important to the success of your campaign because they keep your cause top of mind and tell your story, be aware that most gifts to crowdfunding campaigns come from peer-to-peer personal messages. Sending a personal message (via email, text or call) encourages a response on the recipient's part, even if that response ends up being a no, whereas mass emails and social media posts allow your donor to feel anonymous and disconnected, leaving room to not take any action at all.
Download our crowdfunding communications calendar template to start your plan now!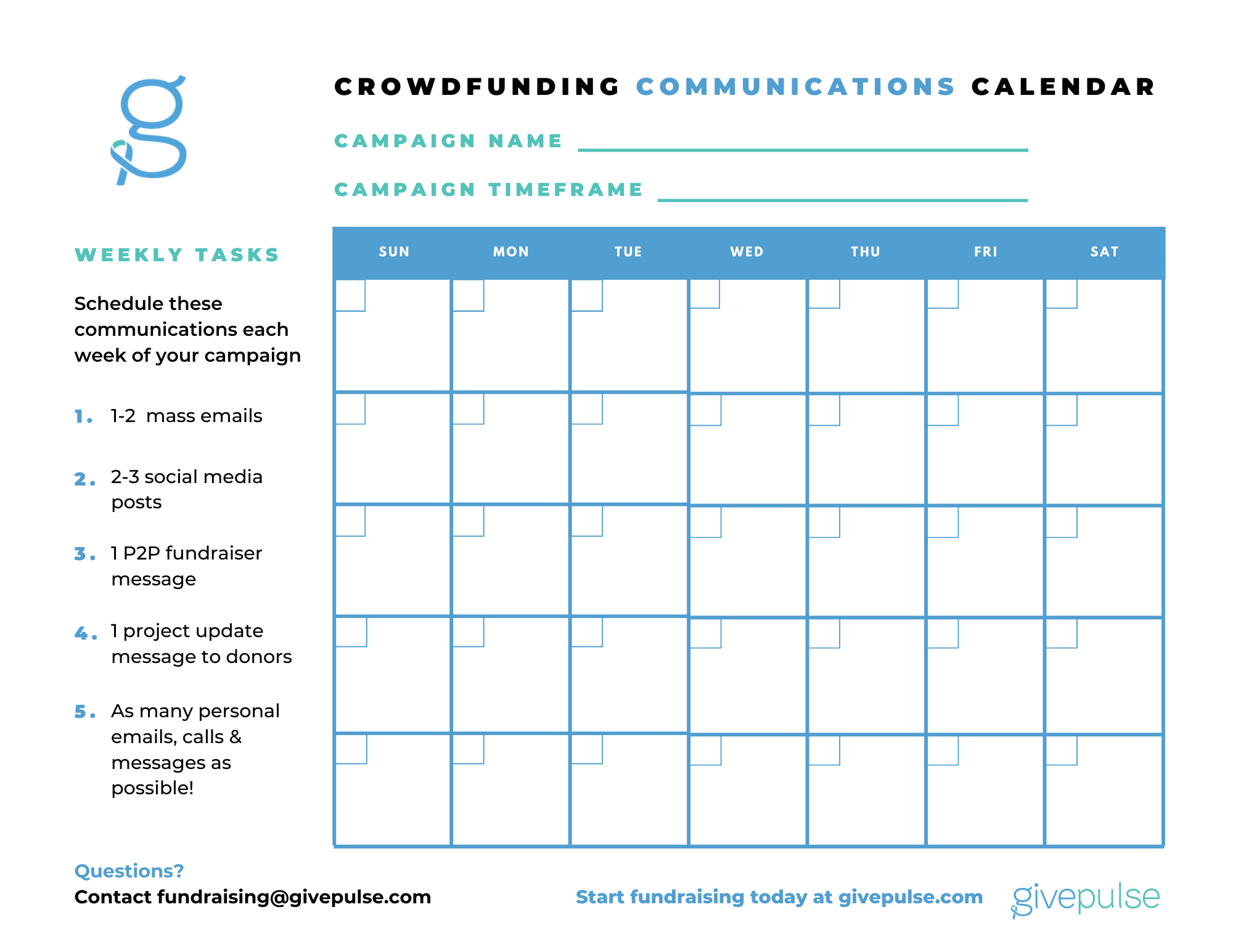 3. Use impact and time limitations in your messaging
When donors learn about your campaign, they'll ask two questions:
Why should I give?
Why should I give NOW?
Impact is the answer to "WHY should I give?" A time limit is the answer to "Why should I give NOW?"
Impact is a happy dog that got adopted after receiving a life-saving surgery. Impact is a student who was the first in their family to graduate from college because they received a scholarship. Impact is a volunteer testimonial describing their engagement in the community. Whether the cause you're fundraising for is specific or general, find tangible examples of impact to show what a donation will help accomplish. If this is a new initiative without previous examples, describe the impact that donors will have in the future!
Time limitations can be an actual timeframe in which you need to receive the funds to accomplish what you're trying to do or it can be a timeframe you impose superficially, meaning you don't have a specific deadline or your deadline is abstract, but you set a campaign timeframe and use the urgency of your campaign ending to increase donations. Your message of urgency will only get more powerful as your campaign comes to an end, so use that to your advantage!
4. Set a goal you can hit – then exceed it
When setting a goal, be sure that you do the math to ensure that your goal is realistic. People like to give to campaigns that are successful so by setting a realistic goal you can actually raise MORE than if you had set one that was out of reach. The factors you should consider are how many email addresses you have access to, the number of peer-to-peer fundraisers you have, your social media following, past fundraising experience from your audience and how many engaged volunteers and constituents you have. The goal calculation worksheet provided below is the best way to figure out a realistic goal for your next campaign.
Reaching your goal is all about knowing how you'll accomplish the "micro-goals" on the way, communicating effectively with your constituents, and expanding your network as much as possible by asking for others to share and promote your campaign.
Once you've hit your goal, be prepared to set "stretch goals." Donors won't stop giving just because you hit 100%. In fact, once you hit your goal you're likely to go over it because donors love giving to successful campaigns! Have an idea for what more you could accomplish with X more dollars and then be ready to set stretch goals incrementally.
Download our goal calculation worksheet!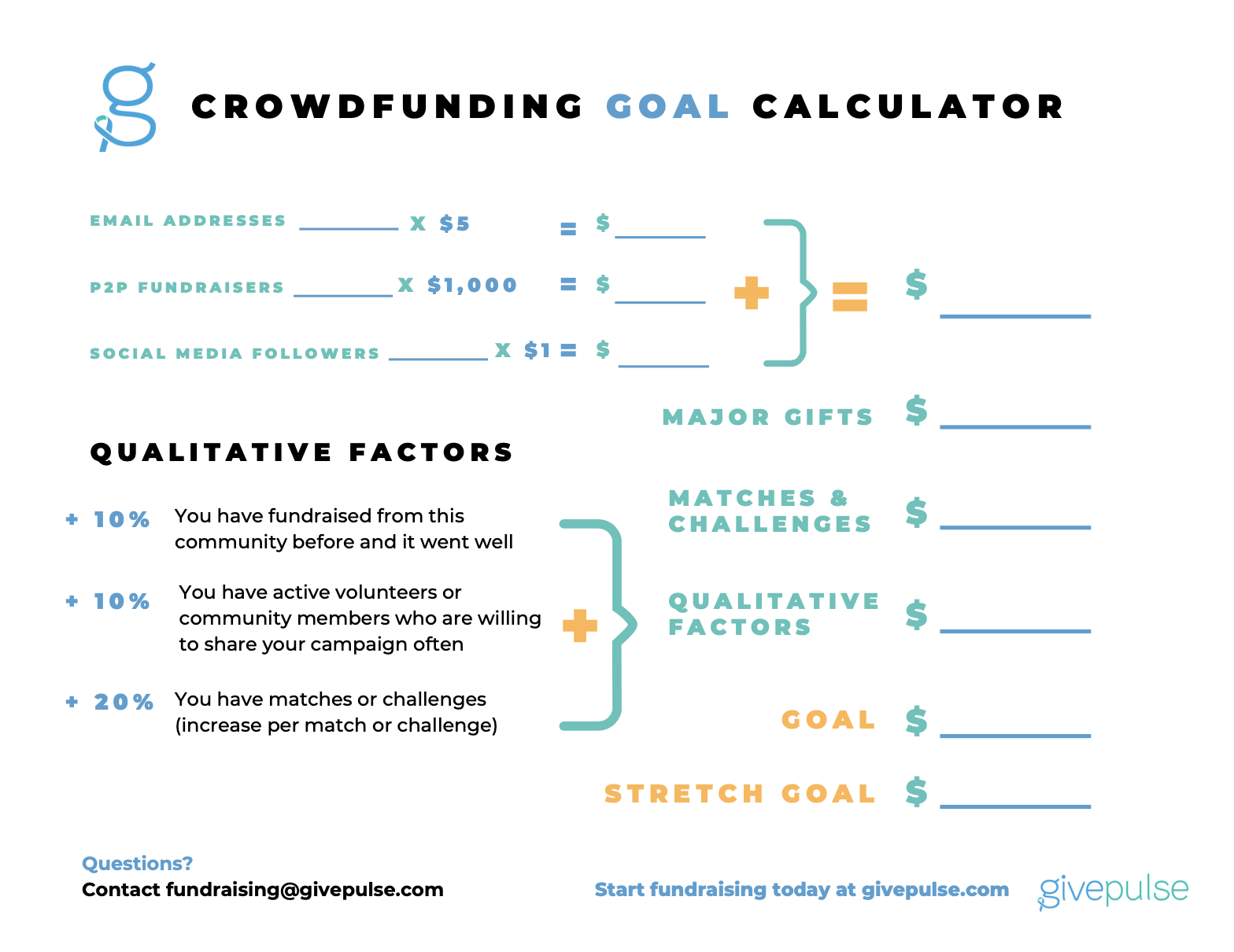 5. Utilize peer-to-peer (p2p) fundraising
Crowdfunding is primarily peer-to-peer, meaning most donations will come from individuals who are giving because someone they know asked them to do so. The best way to expand your network of donors and receive more gifts is to utilize a peer-to-peer (p2p) fundraising tool that allows volunteers to create their own mini-campaign with a goal that goes toward your overarching campaign. From your goal setting exercise, you should know how many p2p fundraisers you need and what you need them to raise to reach your goal.
Peer-to-peer fundraisers can be anyone who has a close relationship with you, your organization or your cause. Some examples of great p2p fundraisers are your board members, staff, volunteers, past event attendees or friends and family of campaign leaders. If you use GivePulse for volunteer management or events, you already have a great database of potential p2p fundraisers at your fingertips! Treat this as you would any volunteer opportunity and invite your supporters to be p2p fundraisers for your cause.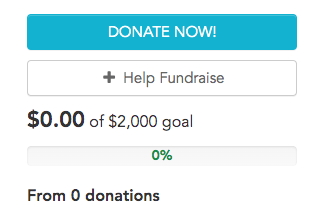 This fundraising campaign has enabled p2p fundraising. By clicking "+Help Fundraise", donors can share this campaign to help your organization reach their fundraising goal, as shown below.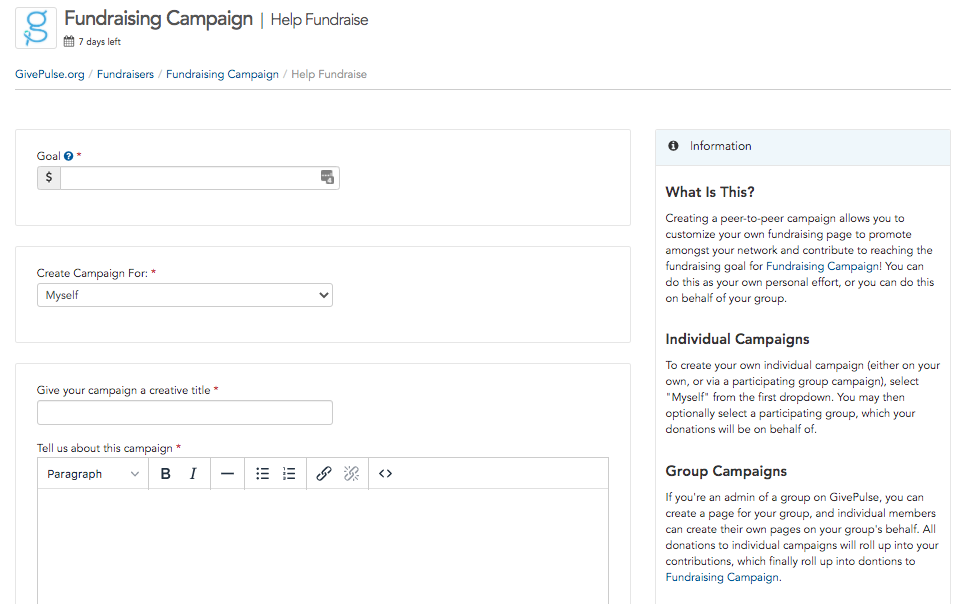 For best results, you'll want to manage your p2p fundraisers throughout the campaign. Send them at least 1 email per week with updates on your campaign and specific tasks that will help them ask for donations. Give them an array of options that allow for time or technological limitations, such as forwarding an email, sharing a social post or calling/texting 5 friends. Don't be afraid to ask your p2p fundraisers to also make a donation to your campaign! It's always easier to ask others to donate once you've made a gift yourself, no matter the size. To learn more about GivePulse's peer-to-peer fundraising tools, click here.
6. Incorporate matches & challenges
The only thing more effective than a time constraint to incentivize giving is a match or a challenge. Funds for a match or challenge can come from many different sources. It can be a larger donation that the donor has agreed to let you use as a match, it can be a gift from a business or corporation that cares about your cause and wants some name promotion to your community, it could be pooled donations from your board members or community or it could be internal general use funds that your director designates as a match for a specific area of your organization.
Matches are very effective to make your donors feel like their gifts are going further. Dollar for dollar matches are the most popular method, but you can also match donations at 2x or 3x. If you're worried about your match not going far enough because of its size, add a time limit or gift cap (example – all gifts up to $250 will be matched). You can also work with a local business or corporation to see if they will match all employees' gifts to your campaign!
Challenges work in a similar way to matches but can be easier to implement and allow you to get creative. The simplest method is to implement an "unlocking" challenge that unlocks a large gift for your campaign once you hit a certain threshold. If you're fundraising for multiple areas of your university or organization, you can have time-limited challenges that award a prize to the area that receives the most gifts in that period. You can also do social media challenges, participation challenges, scavenger hunts, and more!
Giveaways are a popular way to incentivize giving, especially when tiered based on giving level. Just be careful to only give away inexpensive or donated items and be sure that mailing those items and postage costs are feasible for your organization before promising anything to donors.
7. Keep donors updated and engaged after your campaign ends!
It's inevitable there will be potential donors that don't complete the donation process. Provide these donors ample opportunities to engage in other ways, be it volunteering or registering for upcoming events. There will be opportunities in the future to re-engage them in other fundraising initiatives.
For donors who have contributed, the end of your campaign is just the beginning of your relationship. After thanking them, you should continue to update them as you are able to accomplish the things they donated to help you do! Send photos, videos and stories of the impact! Invite them to engage with you in other ways like volunteering, receiving your newsletter or attending events. Leverage GivePulse to streamline donor communications. If you continue to share authentic stories of impact, you can convert them from one-time donors to forever donors.
GivePulse is here to support you through all of these steps to help your next crowdfunding campaign succeed. From our gift matching capabilities and peer-to-peer fundraising features to our storytelling platform, we are here to help you create the most effective fundraising campaign possible.
Contact fundraising@givepulse.com or schedule a call with our giving team for more information.
Want to learn more? Join us Tuesday, August 4 from 2-3 PM CT for our upcoming webinar on Crowdfunding Basics.
Start your crowdfunding campaign on GivePulse today!
To learn more about how GivePulse can help you make a difference in your community, schedule a call.