The community partners we work with each have unique missions, but we believe the reason they do this work is just as important as the work itself. The people who dedicate their time and knowledge to make positive impacts in their community all have strong motivating factors for being in the nonprofit sector because let's be honest, the draw isn't exactly in the earning potential. Passion for a cause is what drives these individuals to do what they do and each one of them has a story. Read on to learn the "why" for Allison Watkins, Chief Strategy Officer for the Austin Parks Foundation.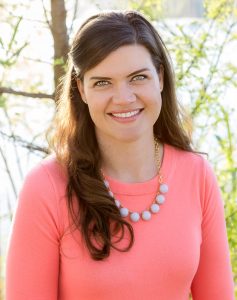 For Allison, her "why" begins not in the nonprofit sector, but rather in the glittery world of advertising. While completing her Masters degree in Advertising at the University of Texas at Austin, Allison realized that copywriting and the corporate world didn't provide the fulfillment of doing work she was truly passionate about. Working with the LIVESTRONG Foundation (formerly the Lance Armstrong Foundation), however, did just that. She was interested in creating awareness for cancer support services as her father is a survivor, and she "could see everyday that they were doing good work and impacting people's lives." After dedicating nearly 12 years to LIVESTRONG, she dabbled in for-profit consulting before joining the team at Austin Parks Foundation.
APF started off nearly 25 years ago as a group of passionate conservationists, environmentalists, and volunteers; people who Allison describes as "folks that wanted to get their hands dirty." They wanted to relieve some of the burden of maintaining Austin's expansive park system from the city's Parks and Recreation Department, and with this goal the Foundation was born.
As a third generation Austinite, now with a family of her own, Allison feels a unique draw to its outdoor spaces and enjoys working to preserve these areas that the city is so well-known for. Transitioning from the global impact of cancer survivorship to the local impact of APF was an important step for her in order to see a tangible, quantifiable effect on her own community. There is definitely something to be said for walking through any green space and knowing you had a hand in preserving it for everyone to enjoy, as an administrator or a volunteer. APF utilizes thousands of volunteers every year to beautify and maintain the spaces under their care, and one of their biggest volunteer engagement events is their annual It's My Park Day. This was Allison's first event with APF, as well as the foundation's first event utilizing the GivePulse platform.
The record-setting 14th Annual It's My Park Day was a huge success, and for Allison it "was overwhelming to see Austinites' involvement in [APF's] mission and their desire to take time to invest in their local parks, trails, and green spaces." APF was able to coordinate over 3,500 volunteers, 115 projects, and 14,000 hours of work for their most impactful It's My Park Day yet. The time and work that was donated by community members equated a financial investment of $215,240 in park labor, which goes to show just how strong of an effect volunteer work can have in improving the green spaces in your own backyard. By utilizing GivePulse for the first time, APF was able to delegate leadership to those volunteers that want to be as involved as possible in supporting their mission by empowering their "super volunteers" to submit project proposals online and have those proposals reviewed by both APF and Austin Parks and Recreation Department. This enabled APF administrators to have more time to do outreach and promotion, and culminated in a successful and impactful event for everyone involved. For more information on APF's It's My Park Day 2016 and how to get involved for next year, click here.
Overall, Allison's "why" is simple and something I think we can all relate to: "I care about the place that I live." We all enjoy the green spaces we have around us, whether it's your favorite hiking trail or metropolitan park, or even the playground in your neighborhood. It's essential to acknowledge the resources and commitment it takes to preserve these outdoor areas, as well dedicate what time and funds we can to make a difference in our own backyard. In Allison's words, "the world works when people get involved."
The Austin Parks Foundation is a kind neighbor and client of GivePulse. To learn more about how they utilize our platform, enjoy our video. For more information on volunteering with the Austin Parks Foundation, click here.
To discuss how GivePulse can help you make an impact in your community, schedule a call with our success team.