As GivePulse approaches our 10 year anniversary this spring, we wanted to reflect upon our evolution from past to present and share our goals for the future. We have come a long way in ten years. The continuous feedback and support we receive from our clients and our volunteer community is what drives our innovation and has helped to build GivePulse into a leading volunteer management platform with millions of users. We put problem-solving at the forefront and are a company built on honesty and trust. Today, we are excited to announce a new version of our product that further enhances volunteer management, making it even easier to manage and measure impact. But let's start from the beginning…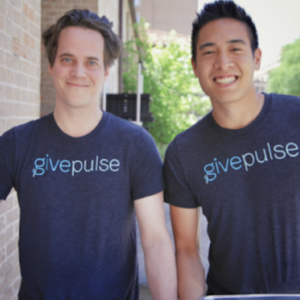 The GivePulse Idea
The original concept to create a one-stop-shop platform for volunteer coordinators was an idea George came up with while serving on the board at a local preschool. As a volunteer event coordinator himself, George realized that the only tools used to manage the details were paper and pencil.
This method, as you can imagine, was very frustrating. Volunteers would sign up, fail to show up, and there was no way to contact them.
After talking to other board members from various organizations about the systems they used for volunteer management, George quickly learned that they too were managing events by hand or simple Excel spreadsheets. They also had very little contact information on their volunteers, oftentimes, just a name. From this problem, the idea for an easy-to-use technological management solution was created, and the GivePulse platform was born.
The Co-Founders Meet
Shortly after coming up with the idea for GivePulse. George was introduced to James at a coffee shop, where George pitched his idea. James was sold within the first ten minutes. From that point on, they became partners and began working to create a comprehensive and efficient volunteer management system. GivePulse was designed to be a place where organizations could post events where they needed volunteers, and in turn, individuals could sign up for events with a pre-made profile for easy contact.
Bringing GivePulse to Life
During the first few years, their workload was immense, with big dreams and a will to make it happen. James was building and creating the platform we all know and use today, while George was out networking during the day and coding at night.
They worked 14 hour days for years, just trying to make the platform a reality, and they both remember the day they received their first paid subscription for $8 a year!
With both co-founders working tirelessly, it's needless to say that there were some bumps in the road. There was some burnout along the way, but soon… a turning point.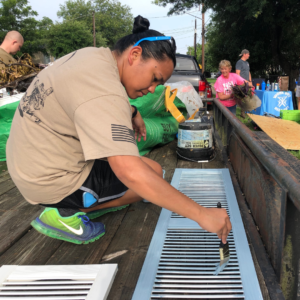 The Light at the End of the Tunnel
In 2013, James and George participated in a national hackathon, where coders were paired up with nonprofits to help build their websites for free. They were paired up with Keep Austin Fed, an organization that took excess food from restaurants and distributed it to those in need.
In two days, George and James built an entire website and included something special. They built a text capability for restaurants to alert volunteers that extra food was available for distribution to the homeless..
Following the hackathon, Keep Austin Fed entered their website into the White House Champions of Change and won. Keep Austin Fed was invited to the White House, along with James and George to recognize their accomplishments. James and George knew they were onto something special, and need to push forward their dream of making GivePulse a top volunteer networking platform. Stories of community organizations reaching specific goals, or individuals mobilizing volunteers to help with natural disasters are what kept James going for the first few years. He was energized by all of the good that was coming out of this platform they had worked so hard to build.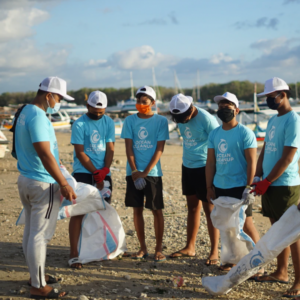 Where GivePulse Stands Today
Stories of people finding hope through GivePulse continued to grow throughout the years. They knew it was time to grow with them and added more staff to the team. More hands-on-deck enabled faster innovation and the ability to evolve the product to where we are today. On January 27, 2022, the product launch is the first of its kind forGivePulse. Volunteer management has never been easier with an updated, user-friendly design, a new Badging feature to recognize major member milestones and accomplishments, and advanced data and reporting tools.
For more information on our product launch, tune in to our webinar on January 27th. Missed the live version? Watch on-demand here.