As part of our DEI initiatives, the GivePulse team is incorporating different holiday festivities and celebrating cultures from around the world! Our Success and Support Manager, Mariana, shared with us the meaning behind Dia de Los Muertos, and taught us how to make our own papel picado!
Papel Picado has a very special meaning to the GivePulse team as it is a blend of two cultures present in our company; Asian and Latin American. The art of paper-making and paper cutting stems from China, where paper originated and where paper cutting was used as a form of decoration for celebrations. In Mexico, before conquistadors had made their way to the New World, Aztecs would use tree bark to create "paper" figures, representing prayers or requests they had from the Earth. The Spanish arrival in Mexico introduced the indigenous peoples to paper, which replaced their bark figurines, and eventually made their way to the Dia de los Muertos altars.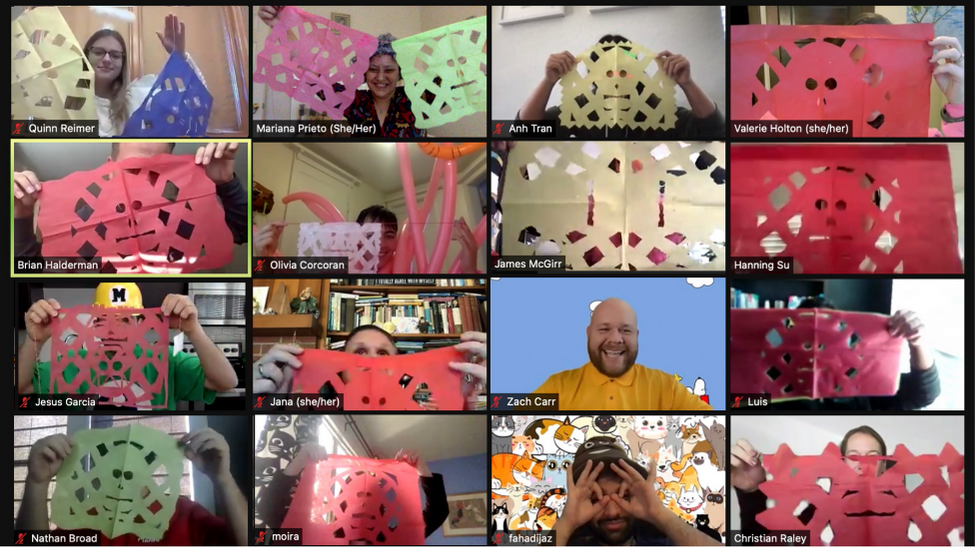 Dia de los Muertos is a day of celebration and remembrance of our ancestors and loved ones who have passed. Families come together on November 1st and 2nd to place their loved ones' favorite meals, treats, and decorations on their ofrenda, or their offering. An ofrenda is a home altar with a collection of objects placed on a ritual in honor of someone who has passed away and is intended to welcome them to the altar setting. It's a beautiful way to celebrate their lives, remember their presence, and feel connected to those who are no longer with us.
How we will remain connected to each other while living, working, and volunteering during a remote or socially distanced time has weighed on all of us. Coming together to learn about each other has helped us feel connected. How are you remembering your loved ones and staying connected? We hope this inspired you to reach out to your friends, family, and coworkers. If GivePulse can support your efforts to engage with your community, reach out to us! We would love to hear from you.
About the Author
As GivePulse's Community Success and Support Manager, Mariana Prieto enjoys working with nonprofits and corporations that are driven towards community impact. When she's not working, reading, or going on walks with her dog, Charlie, you can find Mariana making travel plans. Her favorite places to visit are her first and second homes, El Paso, Texas, and Disneyland. Mariana has a deep passion for connectivity, relationship building, and dessert before dinner.