July 27, 2021, marked the first ever GivePulse Showcase and Impact Awards. The event spotlighted change-makers in higher education and celebrated individuals, institutions, and organizations that went above and beyond for their campuses and communities during the pandemic. In case you missed it, we highlighted these Higher Ed trailblazers and their inspiring work below. To learn more, watch the GivePulse Showcase and Impact Awards Event.
Champion Change-maker Award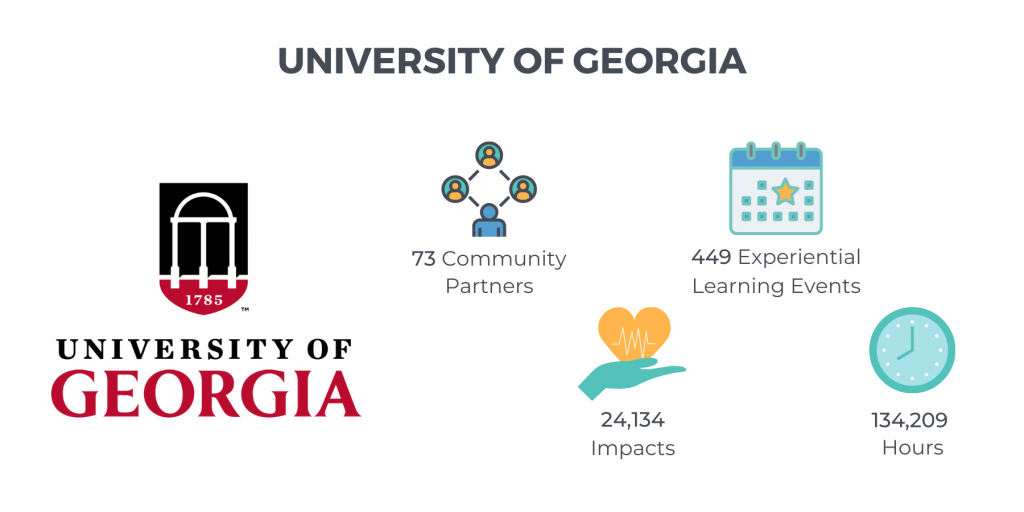 The University of Georgia received the Champion Change-maker Award for implementing innovative approaches to support their university and community. By collaborating with their county government and local school district, UGA provided meals to senior citizens and made sure that parents had access to educational resources. During the pandemic, they offered 449 experiential learning events with 73 community partners and garnered a total of 134,209 hours and 24,134 impacts. Learn more about their innovative community efforts from their showcase session.
Partnership Pulse Award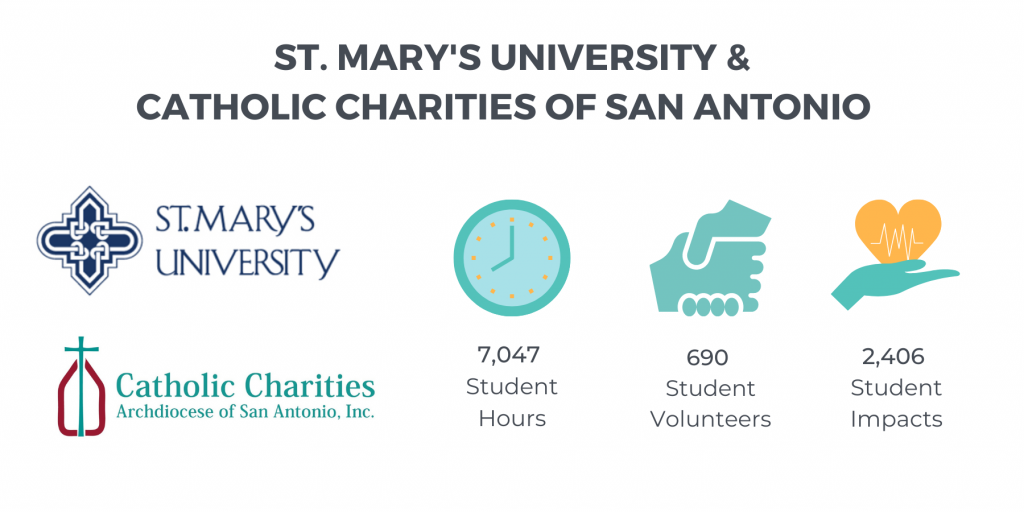 St. Mary's University and Catholic Charities of San Antonio were selected for the Partnership Pulse Award for demonstrating a strong commitment to the principles and practice of collaboration through their campus-community partnership. Together, their programs organized 690 student volunteers who garnered a collective 7,047 student hours and 2,406 student impacts in just two years. We anticipate deeper investments between these partnerships for years to come.
Leader in Learning Award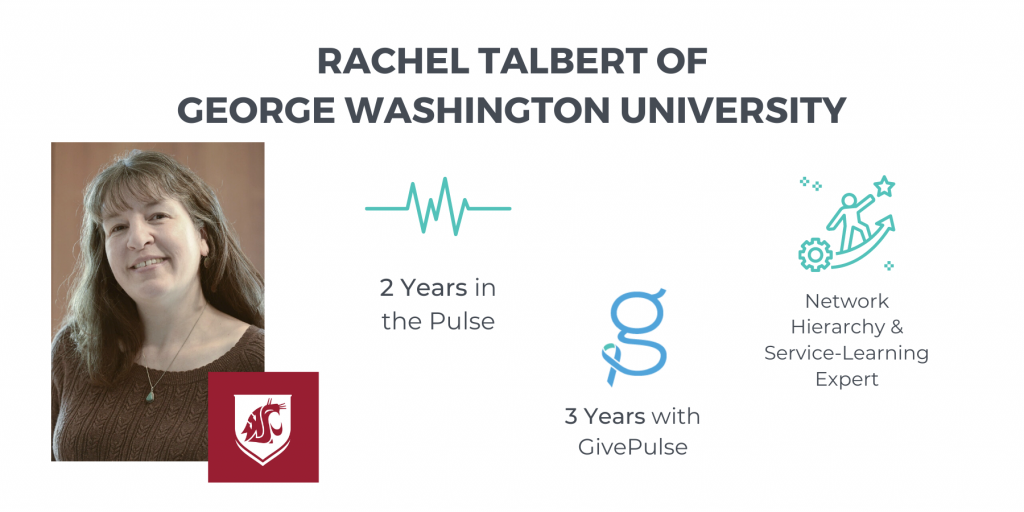 Rachel Talbert of George Washington University was selected as the recipient of the Leader In Learning Award for her strong commitment to learning how technology deepens community engagement. Rachel, who is a Network Hierarchy & Service-Learning Expert, has been a GivePulse partner for 3 years. We look forward to continuing to learn and grow alongside Rachel.
Power of Reflection Award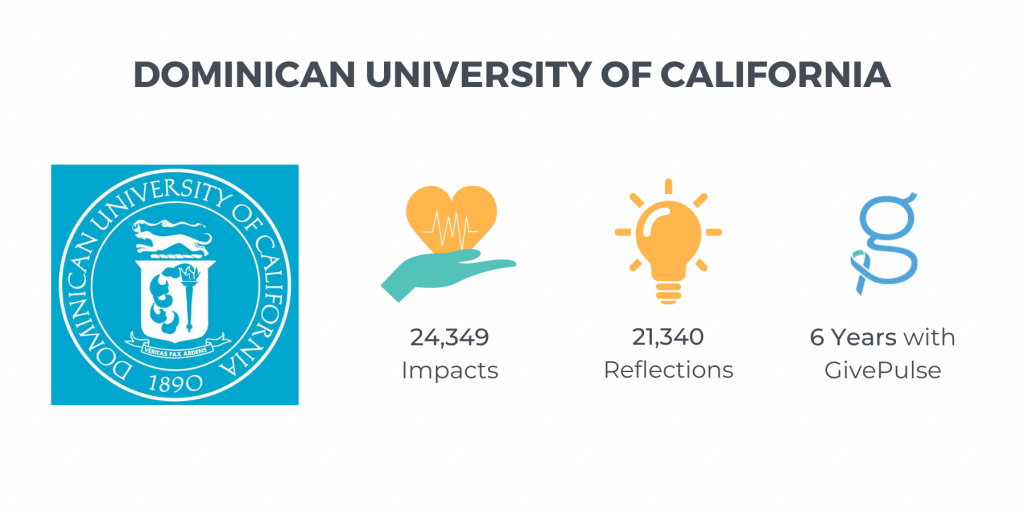 Dominican University of California received the Power of Reflection distinction for their success in deepening the impact of service-learning through robust student reflections. In just two years, Dominican University of California scaled their tracking and assessment efforts with over 24,349 impacts and 21,340 reflections. We are excited to cheer on Dominican University of California as they continue to grow their impact and student engagement.
Honorary Team Member Award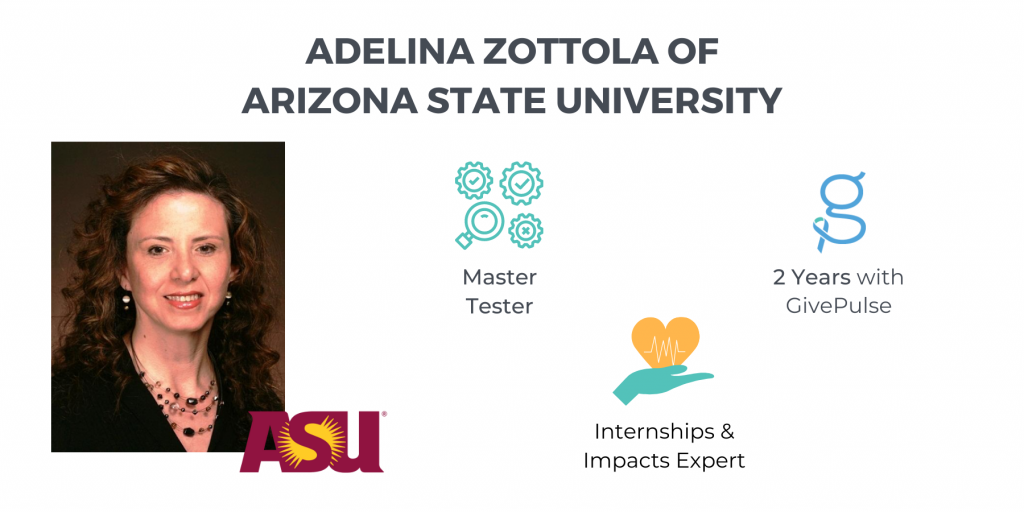 Adelina Zottola of Arizona State University stands out for her dedication to helping shape the GivePulse platform. During the past two years as a GivePulse partner thus far, Adelina has become an expert in internships and impacts, as well as a master tester of the GivePulse platform. She is also responsible for getting some A-list celebs onto GivePulse in the form of excellent test accounts: Stephen Colbert, Sarah Silverman, Beyonce, John Oliver, Lizzo, etc. We are grateful for Adelina's contributions to the platform, and look forward to continued collaboration.
Embracing Change Award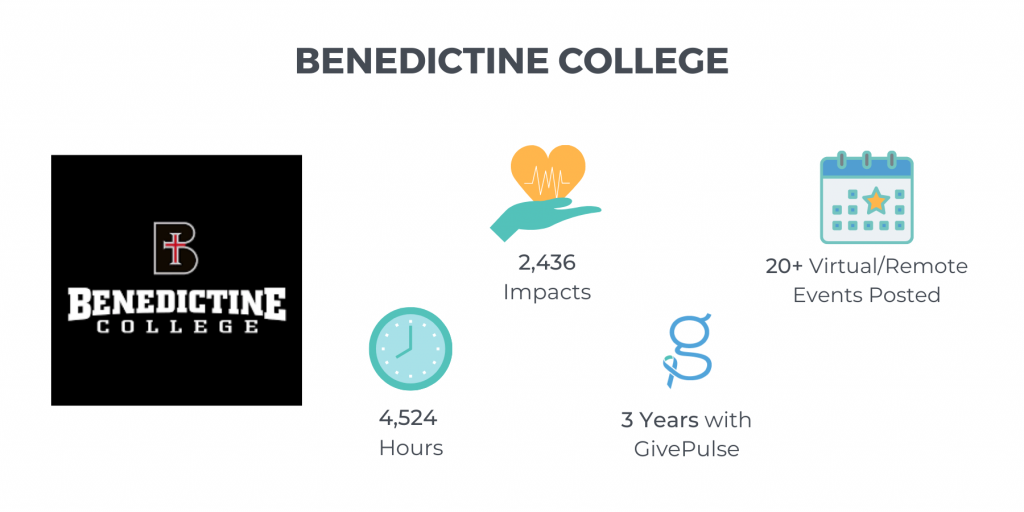 Benedictine College received the Embracing Change Award for quickly and effectively implementing virtual engagement opportunities that met the needs of their campus and community during the pandemic. They hosted 20+ virtual events, and supported 4,524 hours and 2,436 impacts, all during their pivot to virtual community engagement. We are excited to see how Benedictine College continues to leverage their virtual engagement opportunities community-wide.
Public Health Change-maker Award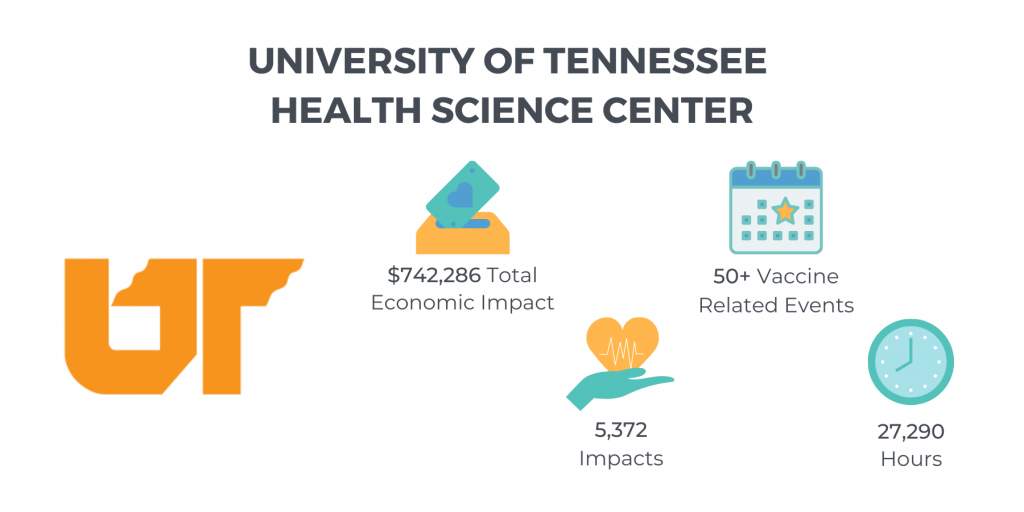 The University of Tennessee Health Science Center received the Public Health Change-maker award for championing public health in response to COVID-19 by hosting multiple covid testing sites and 50+ vaccine related events. Their efforts garnered 27,290 volunteer hours and 5,372 impacts, making a total economic impact of $742,286. Learn more about their inspiring work from their showcase session. We're grateful to know that the University of Tennessee Health Center has plans in place to assist communities as the pandemic continues to evolve.
We are proud to work with such innovative and engaged individuals, institutions, and organizations who work to embrace challenges and uplift their communities. Thank you to everyone who participated and attended. To learn more about how GivePulse can support your institution's community and campus efforts, connect with a team member.