Use GivePulse to engage volunteers and build your community in fun and creative ways.
Since our start, nonprofits and social impact organizations have created innovative, holiday volunteer opportunities, from in-person carnivals to service-learning opportunities.
Check out what our partners have done for Halloween this year!
Snip and Tip: Pima Animal Care Center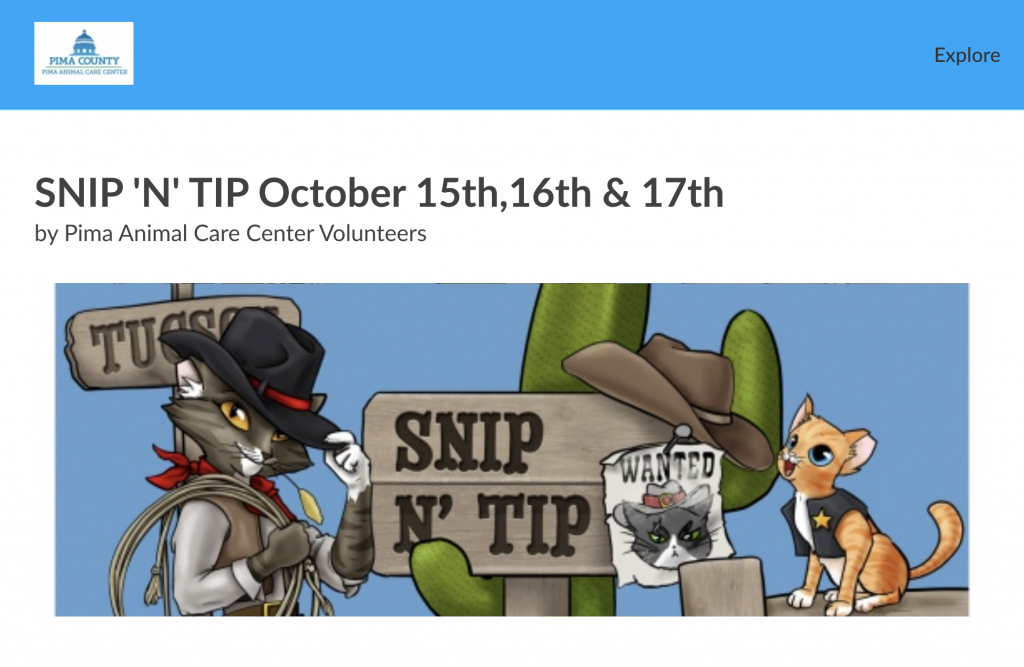 What could be more fun than dressing up for Halloween? Dressing up your pets, too! Pima Animal Care Center, an animal shelter in Arizona, embraced the holiday to recruit new and existing volunteers to help with their medical clinic. By listing their event on GivePulse, Pima Animal Care Center recruited volunteers with special skills, such as vets looking to do some pro bono work, or volunteers who have experience in clinic intakes. It was a great opportunity to attract volunteers with technical skills who were ready to jump in and help their community!
DoSeum Halloween Weekend: The DoSeum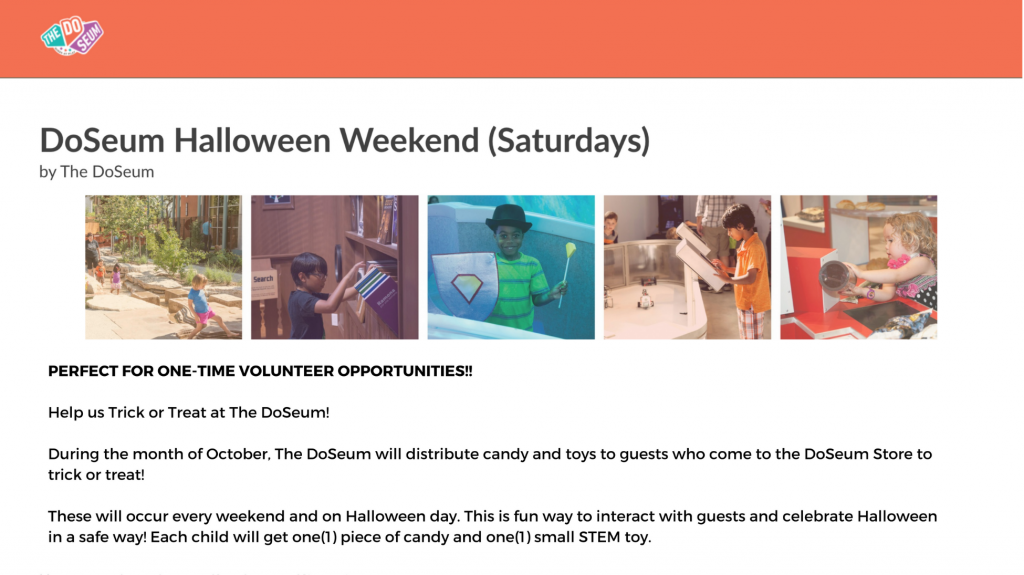 People are often so busy during the work week that it can be difficult to find time to search and show up for volunteer opportunities. The DoSeum in San Antonio mediated this problem by offering impactful volunteer opportunities during short time frames. These quick volunteer opportunities offer the perfect way for groups, churches, and corporate volunteers to sign up and give back to their community. This event also helps the DoSeum continue their mission to provide access to educational resources, doubling the volunteer impact!
BOOFest at the Ballpark: Macaroni Kid Fayetteville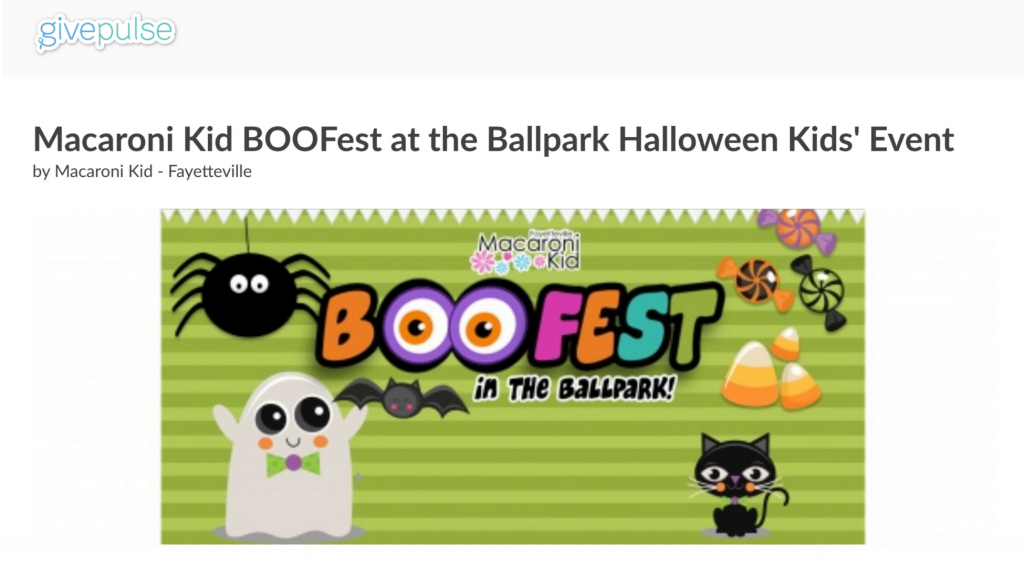 Each year Macaroni Kid hosts a BOOFest and invites all local organizations, schools, and volunteers to enjoy and participate in this child-friendly trick or treat event. Their GivePulse affiliations with the University of Arkansas (UARK), allow them to easily share this event with the Volunteer Action Center, UARK's Office of Student Engagement, UARK's Greek Life, and UARK's Panhellenic Council. In less than a week they filled all of their volunteer shifts, taking pre-event stress off of the organization.
SpOOky Bag Drive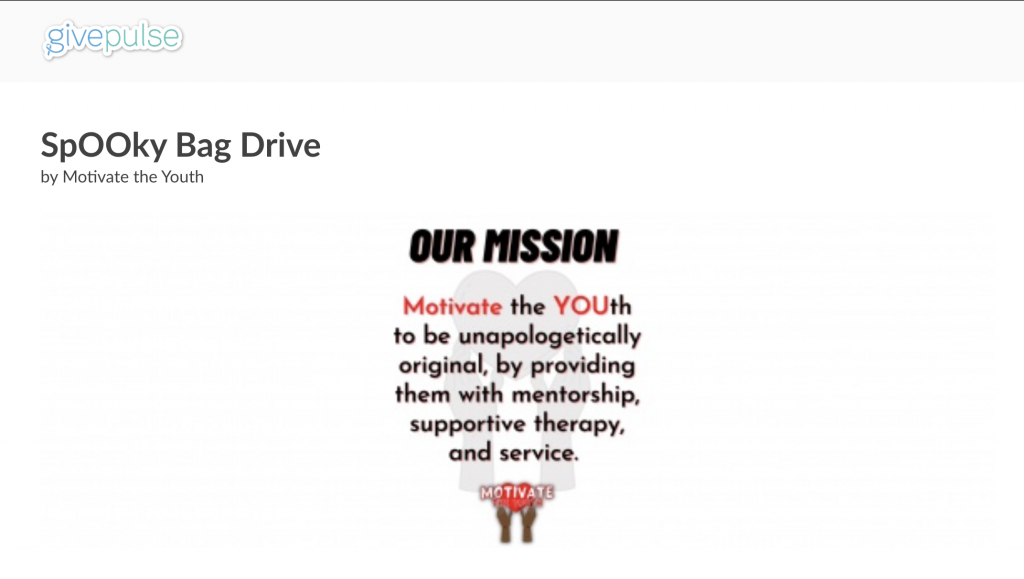 Halloween isn't always just about the candy. Motivate the Youth, a nonprofit in Greensboro, North Carolina celebrates the holiday by providing dental items for kids to use to take care of their teeth after eating all of their candy. They collect toiletries, such as toothbrushes and toothpaste, and pass them out to promote healthy dental habits for children who may not have access to dental care. (Don't worry, they won't get tricked – they're also giving out the treats!)
Halloween Service Project: University of the Incarnate Word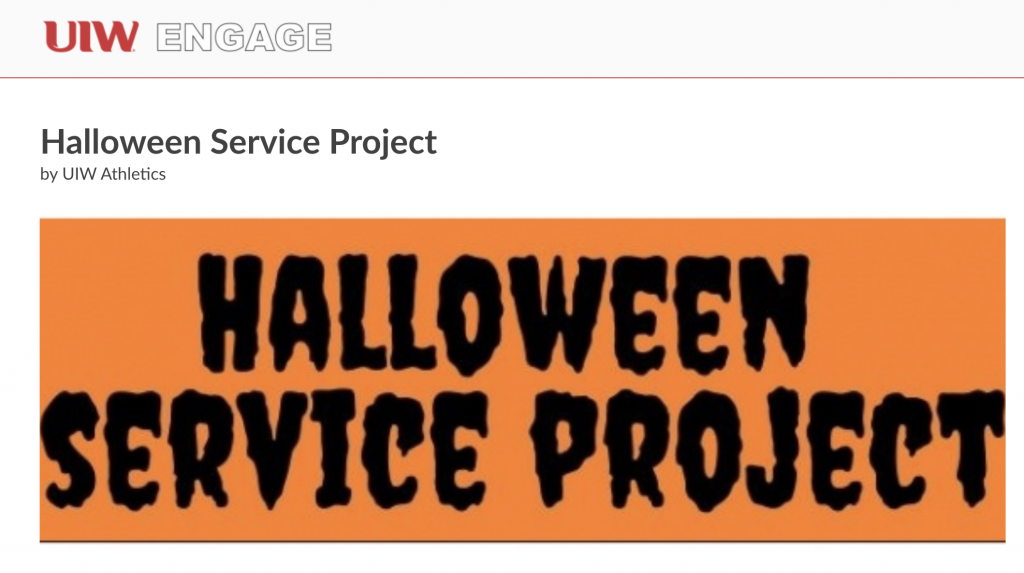 What's spookier than Halloween? Midterms. And what do midterms mean for many students? It's time to engage in Service-Learning hours before the end of the semester! Universities such as the University of the Incarnate Word, Concordia University, and Weber State University all take advantage of holidays to create fun and engaging volunteer opportunities. This Halloween we saw a variety of events for student volunteers to get involved, like taking a volunteer shift at their community carnival and putting together candy bags to pass out on Halloween!
However you're activating and engaging your community, we hope that GivePulse can support your efforts to take your Community Engagement to the next level! If you have any questions or would like to speak to a team member to design your holiday event, please contact your account manager or reach out to support@givepulse.com.
About the Author
As GivePulse's Community Success and Support Manager, Mariana Prieto enjoys working with nonprofits and corporations that are driven towards community impact. When she's not working, reading, or going on walks with her dog, Charlie, you can find Mariana making travel plans. Her favorite places to visit are her first and second homes, El Paso, Texas, and Disneyland. Mariana has a deep passion for connectivity, relationship building, and dessert before dinner.