In honor of both Martin Luther King Jr. Day, and the National Day of Racial Healing on January 18th, we are highlighting three universities that have gone above and beyond in hosting meaningful and impactful events that have encouraged students to make a difference in their communities.
Washington State University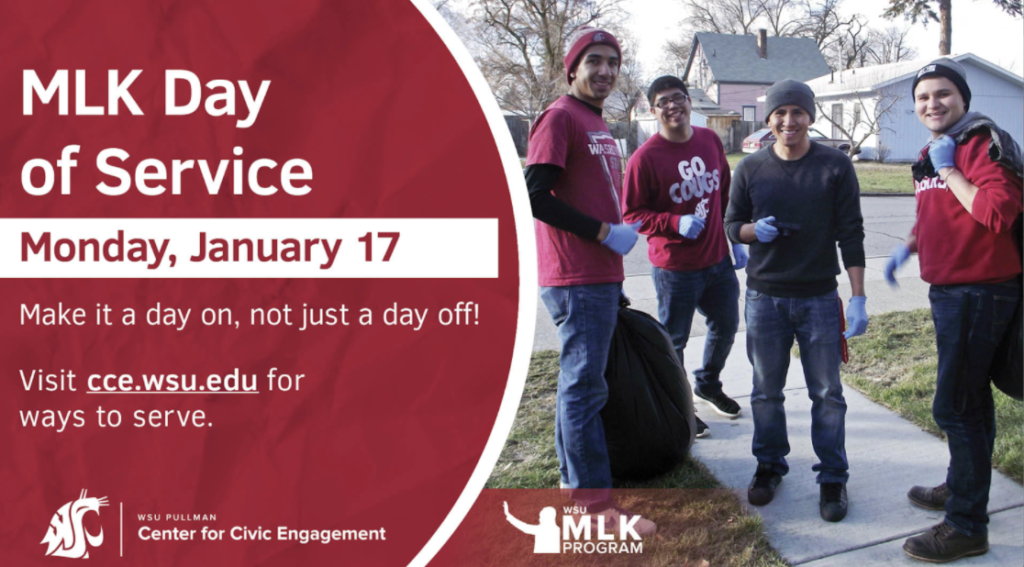 Our friends from Washington State University (WSU) hosted five different events on January 17th, giving students multiple ways to participate.
The mission of Inland Oasis is to conduct and support educational, social and health programming, specifically for the lesbian, gay, bisexual, transgender, intersex and allied communities on the Palouse, Southeastern Washington, and North Central Idaho.
Students from WSU were able to volunteer with Island Oasis this past week to support their relocation by painting and moving furniture into their new space.
​At The Palouse Discovery Science Center, students are able to go and explore scientific phenomena and enjoy special projects to learn about science and math. Student volunteers will assist with Palouse Discovery Science Center, helping both inside and outside with cleaning and/or projects and upkeep.
The White Spring ranch is a local historical site, as well as the museum in the Palouse region in Idaho. Student volunteers will assist with White Springs Ranch helping both inside and outside with cleaning and/or projects and with upkeep.
The WSU Cougar Food Pantry is powered by student funds to alleviate food insecurity for both undergraduate and graduate students. The Cougar Food Pantry has seen overwhelming success since the beginning of the Fall 2021 semester in the new CUB Ground Floor location. Having logged over 1,600 visits in the first two months of the Fall 2021 semester and serviced almost 3,000 students and household members, the Cougar Food Pantry is putting in maximum effort to support all of our hard-working undergrad and grad students regardless of background. Students will be posted at the entrances of local grocery stores to interact with shoppers. Getting the community involved by handing out lists of most requested grocery and hygiene items, and helping collect these items, will directly impact WSU students experiencing food insecurity.
At The Phoenix Conservancy, students will be working with plants, removing invasive species, and sew native grass seeds in their place. You may also get the chance to work with animals. This also consists of weeding, planting native species, and getting the greenhouse ready. Events vary weekly. Student volunteers will assist with The Phoenix Conservancy, helping both inside and outside with cleaning and/or projects and upkeep.
The University of Texas at Austin

Our own, University of Texas at Austin, hosted several events for students, and also held a virtual volunteer event, encouraging people all over the world to volunteer and plan their own virtual events.
Hosted a food drive in support of Central Texas Food Bank on MLK Day, which saw great support!
UTA knows the world has changed, and volunteering looks different for everyone, especially with the recent spike in COVID-19. They encouraged individuals at higher risk to participate in Martin Luther King Jr. Day virtually by attending webinars, writing letters, or doing other at-home activities. UTA included links to various virtual events all over the country.
North Carolina Agricultural & Technology State University

Our next spotlight university is North Carolina Agricultural and Technical State University, a historically Black university, located in Greensboro NC. With a long history in racial justice and politics, it was one of the places where Martin Luther King Jr. spoke in 1958, just ten years before his tragic assassination. Four students from North Carolina A&T also started the Greensboro sit-in in 1960, which lasted over 5 months. To honor Dr. King's message, North Carolina A&T hosted some amazing MLK Day events that encouraged the community to get involved.
This Martin Luther King Jr. Day of Service is an annual event that North Carolina A&T hosts every year, encouraging service and introducing students to different parts of their community, while honoring Dr. King and his legacy.
O.L.C.E Non-Profit Involvement Fair
Hosted by the university's leadership and community engagement office, O.L.C.E planned a nonprofit involvement fair for students to introduce themselves to their nonprofit community partners, find out about volunteering opportunities, and listen to live music!
Students from North Carolina A&T helped clean up their local plaza to promote community awareness and beautify their city.
---
Thank you for participating in our Martin Luther King Jr. Spotlight event this year!
Reach out to us at GivePulse.com for help in planning your next event.