There are many ways to give back to your community. Organizing a Martin Luther King Jr. Day of Service is an impressive example of giving back to your community.
Zakiya Payne, an Americorps Vista, has played an instrumental role in planning High Point University's (HPU) MLK Day of Service.
We had the opportunity to speak with Zakiya. While taking a leadership class that required Zakiya to complete community service, she fell in love with volunteering. This love ultimately led her to create her own volunteering events, donation drives, and more.
Present day, Zakiya leads HPU's Martin Luther King Jr. Day events alongside the Executive and Assistant Directors of the Center of Community Engagement, the Bonner Leader's on the HPU campus, and the other HPU Americorps Vistas working around the community at various nonprofits.
High Point University Center for Community Engagement Staff
As of January 13th, High Point University had over 30+ events for their students, community, faculty, and staff to get involved. Over 400 volunteers have signed up for events on MLK Day of Service.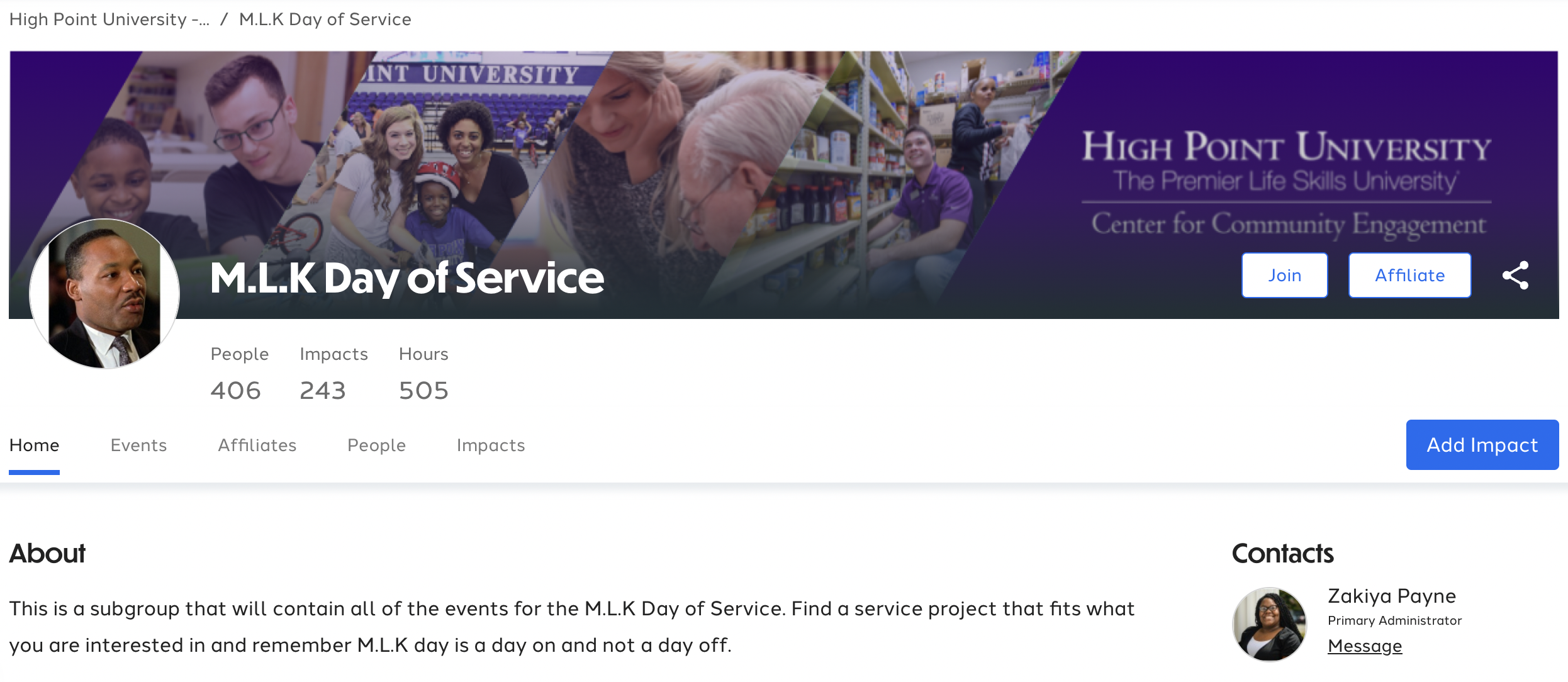 "Here at HPU we call MLK Day, a 'Day On' rather than a day off. "

Zakiya Payne
Getting community partners involved was one of HPU's main priorities for this campaign. This can be a fairly daunting task for some organizations without the proper resources. When asked how their team strategized and was able to get so many partners on board, Zakiya said,
"Our strategy for putting our MLK Day of Service project together, while still being fairly new to GivePulse, consisted of connecting with community partners and talking to them about the platform and giving them instructions on how to use it. We also attended a nonprofit leadership meeting to announce our campaign and discuss GivePulse, and that drove some interest as well."
When looking at student engagement, High Point University has several student organizations hosting volunteer opportunities across campus. Zakiya said one of their main ways of connecting with students was collaborating with student organizations. An example, they were able to work with Bonner Leaders on campus to help promote events and collaborate with them on service activities.
When asked how Zakiya motivates students to get involved on campus, she said she likes to take a more personal approach, "First, I like to ask them what they are passionate about. Second, I get them fired up and ready to go! And lastly, I let them know how their work this day makes a difference."
High Point University Center for Community Engagement staff and volunteers at the Southside Community Orchard
Tips for Planning and Connecting with Community Partners
There are many moving parts while planning a campus-wide or large-scale community engagement campaign. Recruiting students, faculty, staff, alum, community partners, and the public to be involved in adding events can be challenging.
Zakiya was able to offer suggestions to campuses planning similar events.
"My biggest tip is to figure out what the community needs. I've seen firsthand where some organizations do things because they think that's what the community needs without ever speaking with the community. We need to be intentional about hosting service opportunities and ensure they benefit the community and those involved. My second tip would be to start early! If you are planning something of this magnitude, try to get the ball rolling at least 3 to 4 months prior." Campuses have a lot on their plates and campaigns happening simultaneously - it is best to coordinate with other departments to ensure that large-scale campus-wide initiatives aren't competing with each other.
About High Point University
High Point University's Center for Community Engagement implemented the GivePulse platform on campus last year in 2022. Zakiya and HPU's Center for Community Engagement team has been instrumental in getting students and community partners engaged and involved with using GivePulse tools in scaling their social impact.
About GivePulse
GivePulse's mission is to enable everyone in the world to participate and engage in lifting their community to new heights. We do so by providing a platform to list, find, organize and measure the impact of service-learning, community engagement, philanthropy, corporate social responsibility and volunteerism.
Founded in 2012 in Austin, Texas, GivePulse works with 650,000+ groups, including colleges and universities, nonprofits, businesses, K-12/school districts and cities and municipalities. Together, we connect millions of people in an effort to create positive social change.
Start making a difference today by visiting www.givepulse.com.