In the wake of the recent SCOTUS rulings, voting is more important than ever to help preserve the rights of people in the United States. In 2022, we have the opportunity to participate in the primary, Senate, House and gubernatorial elections.
Historically around 60% of voters turn out for presidential elections, 40% for midterm elections, and even fewer for primary elections (Source: FairVote).
GivePulse is partnering with Turbovote to help make voter registration as easy as possible, allow you to receive election reminders and get help with voting by mail. Click here to register or here to see your state's voting rules.
With primary elections happening all over the country between March and November, it may be hard to determine when your state is holding elections. We want to make your voting registration experience as intuitive as possible. Below, we outline when your state is having elections, how to register, and how to request a ballot.
2022 Primary Elections
Some states hold primary elections before the November midterms. Primary elections allow political parties to select candidates for a general election where each party's candidates run against each other (Source: Ballotpedia).
July
August
August 2: Arizona
August 2: Kansas
August 2: Michigan
August 2: Missouri
August 2: Washington
August 4: Tennessee
August 9: Connecticut
August 9: Minnesota
August 9: Vermont
August 9: Wisconsin
August 13: Hawaii
August 16: Alaska
August 16: Wyoming
August 23: Florida
August 23: New York
September
September 6: Massachusetts
September 13: Delaware
September 13: New Hampshire
September 13: Rhode Island
November
2022 Senate Elections
Senate elections are taking place across the country on November 8, 2022. Of the 100 seats in the Senate, 34 are up for election. Below is a map of the states that have Senate elections coming up (Source: Ballotpedia).


2022 House of Representatives Elections
House elections happen across all 50 states every two years, when all 435 voting seats in the House of Representatives are up for election. Be sure to cast your vote on November 8, 2022.
2022 Gubernatorial Elections
Thirty-six governors are up for election on November 8, 2022. In most cases, gubernatorial elections are held every four years. Thirty-four states hold their gubernatorial elections aligned with midterms, while Vermont and New Hampshire hold their elections every two years. Below is a map listing all the states holding gubernatorial elections in 2022 (Source: National Governors Association).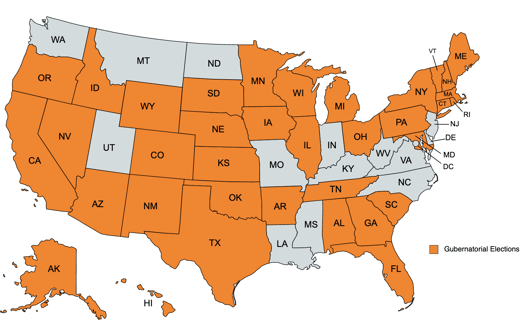 How to Get Involved
Voting can be stressful, especially if you are unclear about your state's voting rules, when to order a ballot by mail, or even where your local polling center is. Check out these resources before heading to the polls, so you have everything you need before casting your ballot!
Let's participate in Democracy this year by registering to vote, showing up at the polls, encouraging friends and family to vote, and engaging with volunteer efforts to register voters in your community. Additionally, we need poll workers to help make voting in person possible. Register to become a poll worker.
Together we can make a difference, build bridges, and empower communities.
Schedule a demo with GivePulse today to see how we can support you and your community.
---
About GivePulse
GivePulse's mission is to enable everyone in the world to participate and engage in lifting their community to new heights. We do so by providing a platform to list, find, organize and measure the impact of service-learning, community engagement, philanthropy, corporate social responsibility and volunteerism.
Founded in 2012 in Austin, Texas, GivePulse works with 650,000+ groups, including colleges and universities, nonprofits, businesses, K-12/school districts and cities and municipalities. Together, we connect millions of people in an effort to create positive social change.
Start making a difference today by visiting www.givepulse.com.