As COVID-19 continues to severely affect our communities, all forms of engagement are more important than ever. We are so thankful to the volunteers, doctors, and nurses risking their lives on the frontlines, and are honored to help support teams in drive-thru testing, call centers, and contact tracing. We are dedicated to supporting continued community engagement in light of rapidly changing protocols regarding shelter-in-place and physical distancing. With that in mind, read on for our compilation of virtual and remote volunteering best practices.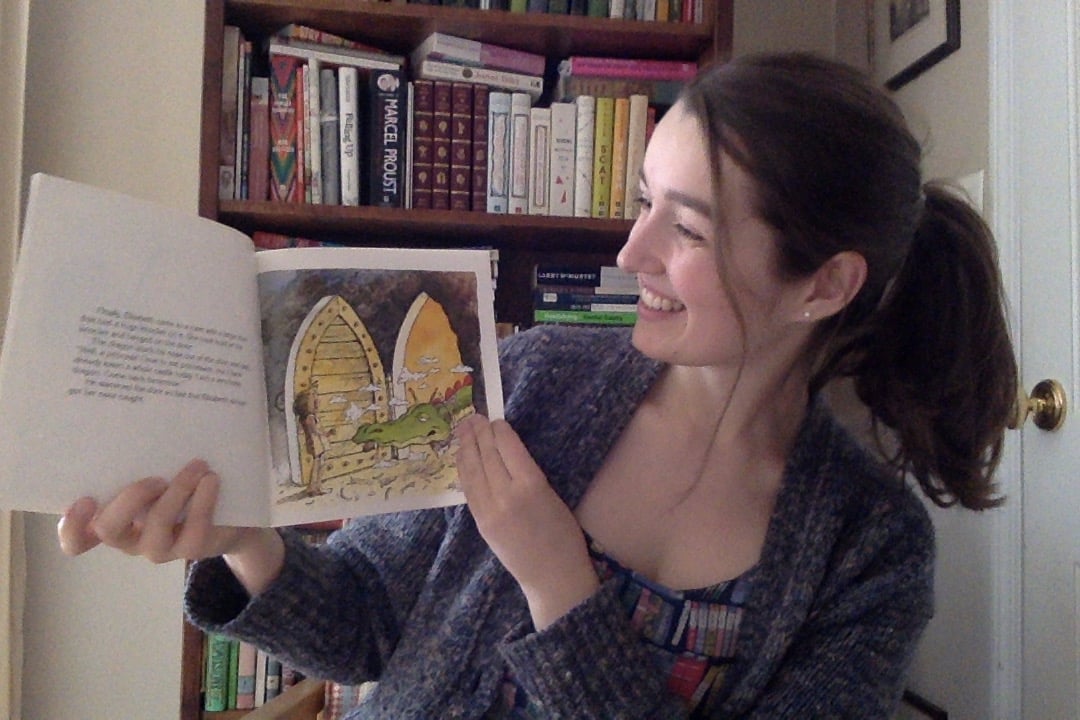 New protocols and safety recommendations have led many of our partners to look for ways to facilitate virtual and remote volunteering opportunities to allow everyone to make an impact. In light of this, we created this guide of best practices for virtual and remote volunteering, using input from our partners and resources we have compiled on our COVID-19 support portal. Below you will find:
Tools for an internal assessment to determine capacity and readiness for managing virtual and remote volunteering
Important steps for setting expectations and guidelines with virtual or remote volunteers
Suggestions for creating and facilitating virtual and remote volunteering
When you are ready to post or find virtual and remote opportunities, you can do so through the GivePulse search portal. You can also schedule a call or demo with our success team for any questions about how to facilitate safe opportunities.
Evaluating your organization's ability to facilitate virtual and remote volunteering
As you consider implementing virtual or remote volunteer opportunities for your organization, it is important to first evaluate whether your organization is able to facilitate these options. Some important questions for self-assessment include:
Does your organization have stable internet access? For example, can you stream and watch video on Youtube or a Webinar?
Do your volunteers have access to phones/computers? Have they been accessible through these technologies for previous communication?
Do your volunteers prefer email, text, or call communication? How can these be utilized for virtual or remote opportunities?
Do your clients have the technology needed to access virtual content?
Do your volunteer opportunities require handling or providing resources? If so, can these be transitioned to contactless methods?
Have your clients' needs changed due to COVID-19? Are there ways that your organization can assist with these needs while still aligning with your mission?
Can you use this opportunity to convert volunteers to donors in order to ensure that your organization is able to operate at full capacity after COVID-19?
Have you asked volunteers how they can help and what their availability is at this time?
Can your organization identify short and long term projects that can be worked on virtually and remotely?
You can fill out our Program Assessment to determine your organization's readiness for virtual and remote volunteering. If you are already able to answer these questions with specificity, you should be primed for success. In this case, we recommend adding your virtual/remote opportunities on here for volunteers to apply! If not, feel free to reach out to us here and we can schedule a time to help you think through this together. We hope that this guide will help you to get started!
Communicating your remote and virtual opportunities
In order to effectively communicate these opportunities, it is important to first make sure that your volunteers know what you mean by virtual and remote. We have found the following definitions helpful:
Virtual: Any opportunities that use technology to replace traditional face-to-face contact. This technology often includes phones (mobile applications, texting, calling) or computers (internet, desktop apps).
Remote: Any opportunities that can be completed remotely from the organization facilitating and evaluating the engagement. These opportunities may or may not be virtual.
Note that organizations may not necessarily have the same definitions of remote. For example, some organizations refer to an organization as remote if the volunteer experience takes place at a location other than the organization headquarters; if a volunteer works with students at an elementary school, this opportunity might be marked as remote because it occurs at the school rather than at the headquarters. Because of this, it is important for organizations to communicate what they mean by remote to their volunteers!
Beyond these definitions, it is important to also communicate expectations, intended impact, and method of evaluation.
Expectations include the anticipated timeline of the project (is there a date by which you need the volunteer to complete this opportunity?) and any aspects of the volunteer experience that may not be obvious to the volunteer (for example, if your organization is running a digital read-aloud, should the volunteer ask questions at the end of the story, or should the volunteer ask questions throughout the reading? How many questions should they ask?).
Intended impact should indicate who the audience is (is it meant to reach the usual client base? Consistent volunteers? Donors?) and how this work will be directed to the clients (for example, if your volunteers are being asked to write a reflection on their time with the organization, will it be directed through a newsletter? A blog post? Will it be posted on social media, or sent straight to the client(s) the volunteer works with?).
When discussing methods of evaluation, you should include whether you will be evaluating based on hours served, in which case the volunteer should be tracking these hours, or whether instead it will be based upon reflection or on the output of the opportunity. In addition, make it clear whether the opportunity is a complete project on its own, or if it is one step toward a larger overarching project (for example, if you are seeking pro bono skills for web development, you might only ask that an individual volunteer create one web page, with the overarching project working toward a new website).
Overall, communication is critical in this time. Your volunteers, like you, are experiencing uncertainty and newfound strains. Fostering connection through virtual meetups and regular, thorough communication will help to alleviate these uncertainties and make the experience of virtual and remote volunteering a positive one! The more transparency you can provide, the more comfortable your volunteers will be — and, by extension, the more they may be able to volunteer.
Common-use cases, updated for virtual and remote volunteering
Many organizations might benefit from hearing what similar organizations have found effective updates to their programs in this time. We have compiled particularly effective options below, divided by the type of organization that we think might find these particularly effective:
Tutoring/Mentoring:
For programs that rely upon face-to-face connection, this pandemic has changed the very nature of their volunteer opportunities. Luckily, there are many alternatives that maintain the core connection and trust so critical to these programs:
Video conferencing: To maintain the immediate connection of face-to-face content, you can promote video conferencing. Security is of the utmost importance in these scenarios. If you are using a platform like Zoom, make sure the rooms are password protected so that only your volunteer and their tutee/mentee can access it. We also recommend having a third party, such as a staff member of your organization, present on this call to ensure that nothing inappropriate is said or shared.
Pre-recorded content: Ask volunteers to film themselves teaching 15-20 minute lessons that students can follow along to anytime, particularly with interactive elements students can try at home! Similarly, volunteers can film themselves reading aloud a favorite book, which can then be shared with families who have young children.
Mobile apps: A variety of mobile applications, such as KidzLit and Marco Polo, offer helpful hubs for organizations to organize video content and back-and-forth communication between client bases and volunteers.
Pen pals: Connection can be maintained through digital postcards, emails, or Messenger Kids (which requires that parents read messages before kids), as well as traditional postcards! In addition to maintaining connections, these also emphasize writing skills for students. Bonus: if you ask volunteers to create a digital postcard, you can ask them to attach it to their impact on GivePulse so you have a record of it that you can look at later!
For example, the Boys and Girls Club of Atchison offers opportunities to record videos to provide to mentees; one such opportunity is Activity Videos, which asks that volunteers submit footage of them sharing an interactive project for the kids to complete!
Hospice/Elderly Assistance:
Like tutoring and mentoring, elderly assistance programs often rely strongly on face-to-face connection. Once again, alternative forms of connection will help to keep a sense of connection and community strong:
Technology assistance: Offer virtual technology support/lessons to help folks stay connected to family and friends who may no longer be able to visit. These lessons can be through videos, clear and thorough written guides, or video chat (see next point).
Video conferencing: As with tutoring and mentoring, connection can be maintained through virtual face-to-face communication. Security will once again be of the utmost importance — for a platform like Zoom, make sure the rooms are password protected. We also recommend having a third party, such as a staff member of the elderly community or hospice, present on this call, whether in the room or online, to ensure that nothing inappropriate is said or shared.
Pen pals: Letter writing and exchange of postcards is another option that, as with tutoring and mentoring, can maintain valuable connections without using technology or face-to-face communication.
For example, Ohio University Center for Community Engagement is facilitating "Smile Mail", which allows volunteers to brighten a senior citizen's day with a drawing or note of encouragement.
Food Security:
Food banks and food pantries are experiencing increased need for donations and assistance. Some of the most important things volunteers can do to help include offering donations of goods and money and helping to deliver food. For centers, other ideas include:
Food drives: Run virtual food drives and in-kind fundraising campaigns. For a virtual food drive, indicate your needs through an online campaign, and ask that donors order food to be delivered to your food bank/food pantry.
Emphasize donations: You can set up donation and fundraising campaigns for money as well as for goods, requesting funds that can be used to order the food directly to the center and maintain its operations during this time.
Cleaning supplies: Request donations of in-kind gifts such as cleaning supplies. These will allow you to deliver/safely prepare food for clients without putting them at undue risk.
Ask volunteers to answer phone calls requesting resources in order to track client needs.
For example, Mile High United Way's 211 Call Center connects individuals and families to a variety of necessary resources, including food. Helping out with call centers is a great way to virtually connect to your community.
Animal/Pet Centers and Humane Societies:
As individuals have quarantined in their homes, many have recognized that they can help to support an animal without a home of its own. This is a perfect opportunity for animal centers to emphasize the mutual benefits of caring for a shelter animal:
Promote fostering: Particularly for those quarantining, fostering is a perfect way to offer care for an animal in newfound free time. While some might have previously been unable to foster due to hours spent out of the house, they may now find themselves with enough time to care for an animal while it waits for its forever home. And who knows — maybe some of the fosters will be converted to adoptions!
Campaign on social media: Share photos of the animals who need love and care widely. Seeing the sweet face of one of your shelter's dogs or cats might just garner the attention of someone who is looking for company during quarantine! You can also share needs for goods and funds, volunteers, and foster homes. Beyond social media, you can ask local media outlets to bring attention to your shelter.
Share your needs: Provide a wish list for supplies and goodies for the animals, and campaign for donations (in-kind donations & monetary). With Giving Tuesday right around the corner (May 5), this is a perfect opportunity to share your needs widely.
For example, the Austin Animal Center Foster Program has been seeking foster homes for pets they've taken in during and before COVID-19; contact them to see if you can offer a pet a temporary (or forever) home!
Museums:
Museums have had to close their doors to the public in order to prevent the spread of COVID-19. However, this does not mean that the opportunities to spread knowledge and culture have stopped:
Virtual tours: Ask volunteers to send photos or videos they have taken of the museum that you can post on your social media or website. You can use these to create a virtual "tour" of the museum!
Virtual open house: Similarly, you can host a virtual open house to share information about the museum and maintain community connections to this space.
Focus on funding: You can set up donation and fundraising campaigns for money as well as for goods, requesting funds that can be used to maintain the operations of the museum now and moving forward. Virtual tours and open houses can be helpful to showcase what the funds will be used to protect!
For example, DoSeum has set up a Volunteer Virtual Open House where folks can learn about opportunities, benefits to volunteering, the application process, and more from the Volunteer Service Coordinator.
Civic Engagement:
While the pandemic may be overshadowing politics for many, 2020 is a critical year for civic engagement. Now is a perfect time to focus on actions that folks can take from their own homes:
Promote Census engagement: Explain the importance of the Census, and share how to complete it online.
Absentee ballots: Guide individuals to the forms they need to fill out for absentee ballots, and help them to come up with a timeline for when to request the ballot for primaries, referendums, and general elections coming up.
Phone bank: If your community has a primary or referendum coming up, phone banking can remind people of how to vote, particularly how to vote absentee. If quarantining remains the norm closer to the general election, phone banking will continue to be important to maintain focus on elections and to share candidates' views on crucial issues.
Activism: This period has reiterated for many the importance of policy changes that will support and protect the American people. Organize campaigns to share concerns with congresspeople and to help folks find likeminded political activists to organize in favor of these policy changes.
For example, the Sunrise Movement out of Lawrence University is organizing a phonebanking initiative in support of the Green New Deal. Volunteers participate in an initial meeting to learn about the Green New Deal and phonebanking, and then participate in a virtual phonebanking meetup.
We know these may not cover every situation; here are some ideas from our community to get you started if your organization does not fit into one of the above categories:
Thank doctors and nurses on the front lines (see, for example, University of the Incarnate Word's "Thank Our Heroes" postcard campaign)
Promote donations of money and goods for Giving Tuesday on May 5
Ask volunteers to translate materials into additional languages
Use video conferencing to maintain connections, whether volunteer to client, volunteer to volunteer, organization to client, or organization to volunteer
Encourage your volunteers and donors to share their efforts to create a peer driven effort
Set up donation campaigns, and take advantage of Giving Tuesday on May 5
Ask volunteers to help with social media campaigns and content creation to drive attention to your organization even if it is unable to convert its opportunities to virtual opportunities
Ask volunteers to research best practices and grant opportunities for your organization
See if there are any long-term projects that volunteers can work on from home
Seek pro bono skill sharing for things like taxes, accounting, and more. For example, a web designer might be able to help update your website, a lawyer might be able to review contractual agreements, and a Certified Public Accountant might be able to help you or vulnerable clients complete taxes
Check in with your volunteers through calling, texting, regular email updates, and more — make sure they are still thinking about your organization, even if they can't volunteer
Have volunteers perform these check-ins! Help them to set up a new email or a phone number that they can use on top of their personal number in order to avoid any breaches of privacy
Lean on reflections from volunteers; use this time to compile anecdotes and feedback, which you can use to recruit and retain volunteers going forward
Share Bev, the Best Ever Volunteer, to inspire engagement!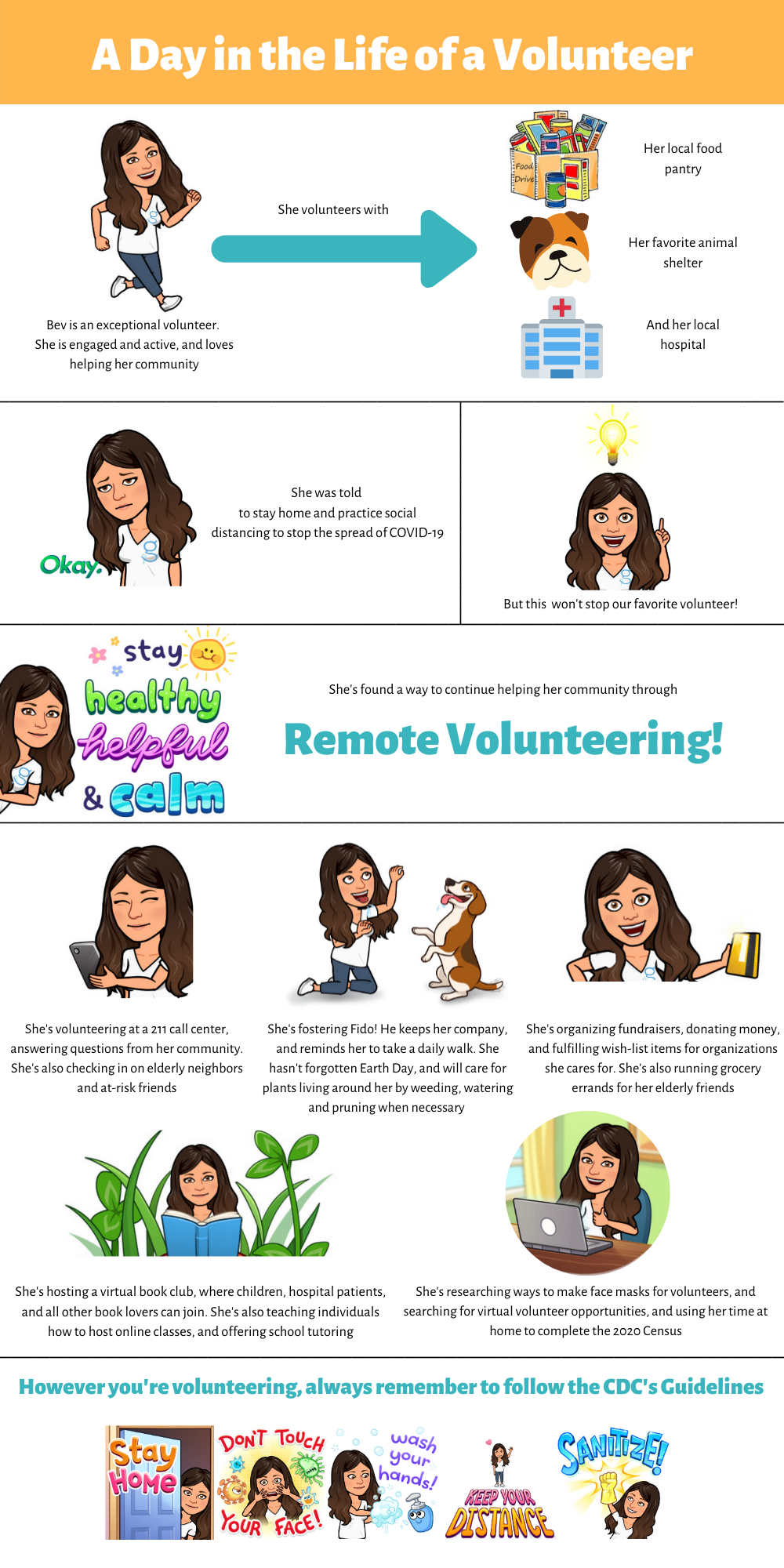 We hope that this guide will help you evaluate whether virtual/remote volunteering is an option for your organization and come up with a plan to maintain volunteer connections, whether or not they are able to volunteer. Feel free to share the work that Bev, the Best Ever Volunteer, is doing. We hope that this graphic will inspire everyone to find a way that they can engage with their community while physically distancing!
If you are using GivePulse, remember that you can tag opportunities as virtual/remote to help volunteers search for them. GivePulse supports donation and fundraising campaigns as well; by the end of this week, we will also support in-kind donation campaigns. Keep an eye out for more information! Beyond this, feel free to contact our COVID-19 taskforce (covid@givepulse.com) or schedule a call with our success team for help in thinking through how your organization can mobilize volunteers at this time to continue helping your community. We are happy to brainstorm, troubleshoot, and help list opportunities.
To learn more about how GivePulse can help you make a difference in your community, schedule a call.