As the country continues to gradually reopen, we will continue working to not only flatten the curve, but also to shrink the curve of COVID-19. In addition to the practices that we have been getting accustomed to like physical distancing, hand hygiene, and mask wearing, contact tracing is a crucial method that has been adopted in several forms throughout the world and can be adapted to smaller settings like a college campus or non-profit organization staffed by volunteers. Collectively, these methods can lead to a reduction in transmission by up to 61%.
In this blog post, we will provide important information about why contact tracing is so crucial and effective. We will also share guidelines and best practices as to how our partners are implementing contact tracing and activating their staff & volunteer base to take part in these crucial efforts to help safely reopen.
We hope this will help you consider how your own organization, business and institution can engage with contact tracing efforts and play an important role in flattening the curve. If you have any questions or would like to participate in our COVID-19 task force, don't hesitate to contact us at covid@givepulse.com or schedule a call with our success team. We will also be discussing contact tracing further in our July 14th webinar "New Volunteering Reality Part 2: Deep Dive w/ Contact Tracing", which will feature a clinic on making activities safe, silo'd, and protected, as well as discussing how to implement contact tracing for large and small organizations. To register, click here.
What's the goal of contact tracing?
Contact tracing is meant to promote rapid diagnosis and treatment of new cases, and to prevent further spread of infection. These are particularly pertinent for our nonprofit, business, and university partners — contact tracing can help prevent volunteers from spreading COVID-19 in vulnerable communities, as well as fostering a safe and healthy community.
How does it work?
Step 1. The contact tracing process is initiated when an individual who is symptomatic and seeking treatment tests positive for COVID-19.
Step 2. A contact tracer or case investigator then determines the number of contacts this person spent time within 5 days of symptom onset.
Step 3. These contacts are notified that they may already be carrying the virus and need to stay at home, and are told to look for any signs of the virus in case they need to be tested and/or seek treatment.
Step 4. During that time, a care coordinator will be available to support contacts by identifying local resources and aids to help address any arising needs while trying to maintain isolation.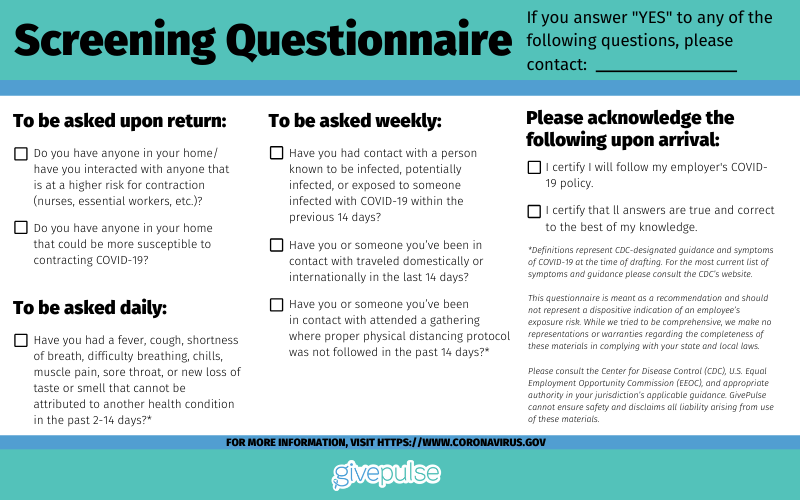 These steps help to both direct resources to those at risk and to prevent further spread of the virus. For our partners, offering contactless temperature checks along with pre-and-post screening questionnaires for staff and volunteers can act as a rudimentary contact tracing method within your organization.
The data gathered from contact tracing can also alert officials and inform immediate decisions close certain high traffic areas or other preventive strategies.
The CDC has developed an in-depth guide to contract tracing and how to set up a contact-tracing program on a local level.
What does it require?
Identifying Contacts
The contacts that are critical to identify are those that have been within six feet for at least ten to fifteen minutes within five days of symptom onset. In order to identify these contacts, COVID-19 positive individuals, confirmed through a medical center or testing site, either need to record recalled social encounters in a diary, undergo an in-depth survey, or leverage a sensing platform such as a mobile app that has tracked the encounters. Incorporating the use of a sensing platform is not only more thorough, but can also be utilized on a large scale.
Mobile Apps
Using a mobile phone app has become the sensing method of choice to not only track contacts, but also to avoid delays in identifying contacts. A recent study found that with the rate of spread of SARS-CoV-2, a delay in notifying contacts could render the method ineffective. Mobile phone apps have been utilized across the world in different forms in Singapore, China, South Korea, and Israel. Apple and Google have collaborated to create an API Exposure Notification framework that utilizes bluetooth technology and promises to maintain privacy. The API can then be utilized by mobile phone apps like GivePulse to aid in tracking cases and informing end-users if they have been in close contact with exposed individuals. We are excited to share more soon about how our platform will be readying to help our partners this fall.
Security
It is important to encourage everyone to opt into these sensory platforms in order for the method to be effective, but some worry about how to maintain privacy while gathering and storing accurate data. However, research has found that it is possible to utilize a data-minimizing solution. As mentioned in the above point, Apple and Google's Exposure Notification framework prioritizes the security of health data. Alabama will be among the first three states in the US to incorporate this technology for not only our partners in the University of Alabama system, but also around the state and in Birmingham-based companies.
Contact Tracers
Along with technology, there is still a need for contact tracers to follow up with contacts. Two of our partners have been at the forefront of research on contact tracing needs. Johns Hopkins Bloomberg School of Public Health originally estimated that 100,000 contact tracers would be required in the United States. George Washington University Fitzhugh Mullan Institute for Health Workforce Equity created an estimator tool that can be used at the state and local level and estimated that about 184,000 contact tracers needed across the country.
The need for contact tracers can be fulfilled by trained volunteers; training new contact tracers and creating helpful tools and applications are also areas where volunteers and students can help make a difference. There are many ways that volunteers and staff can help with the crucial logistical stages of contact tracing — and we are here to help you do so.
What does this mean for your institution?
Recruitment, training, and organization are significant challenges. Several states and institutions have already begun to recruit volunteers to this effort, creating apps and training resources to aid the rest of the country in organizing task forces. A large and powerful source of volunteers lies among our network of college and higher education students, staff, faculty and alumnae. They have been a very important source of innovative strategies.
For example, our partners at the Johns Hopkins Bloomberg School of Public Health have created a six hour training course that will be required by all New York based contact tracers and is open to the public. The University of Houston has created an Epi Corps Contact Tracer Certificate Program, in which students will receive a thorough and unique course to not only learn about contact tracing for COVID-19, but also core public health concepts as cultural competency, gaining trust while interviewing, and maintaining confidentiality.
Implementing similar courses at your institution and within your community engagement centers can help you to mobilize students, staff, and volunteers to help with contact tracing. This will help the nation reach the critical number of contact tracers needed for this method to be effective. If you would like help in setting up courses and groups to offer these courses and track engagement, please let us know by contacting at covid@givepulse.com.
With all of these efforts, large scale contact tracing can become a much more tangible reality. This large scale mobilization effort will only continue as more and more organizations, businesses and campuses decide to open this fall.
Reopening in the fall will require a combination of strategies to keep members of these communities safe including not only contact tracing, but also widespread testing, isolation and quarantine of exposed individuals, continued physical distancing, symptom assessment, and temperature checks.
This is only the beginning stage of the reopening strategies. As more institutions develop plans for reopening, we will continue to provide resources and be a platform to share insight, connections, and support in any way we can as we all continue to overcome the challenges of COVID-19. In all of these strategies, community voices and volunteer efforts can help maintain a safe place for all. For more information, see our recent blog posts highlighting the new methods we will help to support and reopening guidelines for our partners. And as always, feel free to contact us at covid@givepulse.com for more information or to join one of our COVID-19 task forces.
Stay safe and keep in touch! Schedule a call with our success team here.