As of May 20, all fifty states have begun the process of a safe reopening. Your institution, organization, or office might be considering what this means for the upcoming months. While some will opt to continue working, learning, and engaging remotely, others will decide to return to in-person activity in some capacity. For those who choose to reopen common spaces or return to some form of in-person engagement, it is crucial to implement thorough safety measures.
Our COVID-19 taskforce is dedicated to supporting a safe reopening for our partner organizations, institutions, and corporations. In this guide, we will delve deeply into what the Phase 1 and 2 reopening advice might mean for you, including:
How to prepare for a safe reopening
Day-to-day steps to maintain a safe work environment
Specific risk mitigation strategies
We also offer suggestions for volunteer opportunities that might be safely offered as organizations start to reopen; if you feel ready to start planning these opportunities, you can skip past the preparation guide to read these ideas.
We hope that this guide will help you to implement and adhere to crucial safety practices, particularly in contexts in which you might engage with your community and vulnerable populations.
Note: All of the information contained within this article is based on the CDC's recommendations and is not intended as business advice. As always, please follow state and local regulations, and remember that reopening plans are not mandatory: your organization decides for itself when and how it feels ready to reopen.
Preparing for a Safe Reopening
If you are considering reopening, you must consider whether you are equipped to do so safely. From gathering supplies to cleaning common spaces, you will need to ensure that every possible precaution has been taken to prevent the spread of COVID-19.
Use donation drives to gather supplies
In order to effectively prepare, you will need to make sure that you have the materials you need to protect against the spread of COVID-19. This includes sufficient hand sanitizer and soap for everyone in the workspace to use multiple times throughout their days, sanitizing wipes to wipe down all shared spaces both before and after use, and in some cases PPE for all who will be in the space. If you are not sure whether your organization will be able to personally procure sufficient materials, you can organize a donation drive and rally your community to help. If you are a business with the capacity to support your community partners, reach out to them to help fill their gaps!
Check for potential allergens
Allergens may mimic several symptoms of COVID-19, which can lead those suffering from allergies to ignore concerning symptoms, or can lead to widespread fear within your environment. Symptoms of allergies such as sneezing or coughing can also lead to the spread of COVID-19, as droplets may spread even from those who do not yet know that they are infected. In order to alleviate the spread of coronavirus, check all buildings and workspaces for potential allergens such as mold or dust. In residential universities, for example, all dormitories must be thoroughly cleaned and inspected in advance of allowing any students to return.
Set up physical barriers and diversify office time shifts to avoid person-to-person contact
In situations where you may need face-to-face communication, such as reception desks, seminar classrooms, or check-in tables, set up physical barriers wherever possible. A plastic screen, partnered with masks for those on either side, can limit the potential for spread of coronavirus. Wherever possible, close common areas (such as shared kitchens) to prevent spread from their use. In general, make and implement a clear plan for limiting in-person presence. In the case that some or most folks want to be at the office, continue to provide flexibility to work remotely, and identify diverse time shifts to decrease traffic and office concentration.
Day-to-Day Realities
In the below infographics, our Best Ever Volunteer, Bev, details what day-to-day life might look like during Phases 1 and 2 of reopening. From sanitizing frequently to offering virtual and remote opportunities, Phase 1 allows you to begin opening to small numbers of people; Phase 2 offers additional safety guidelines for larger gatherings. Again, it is crucial that you follow any local or state regulations as well as proceeding with an abundance of caution. We do not recommend that you allow for gatherings of more than 10 individuals if you can avoid doing so, and we encourage you to take every opportunity to decrease your density of individuals in any space.
Phase 1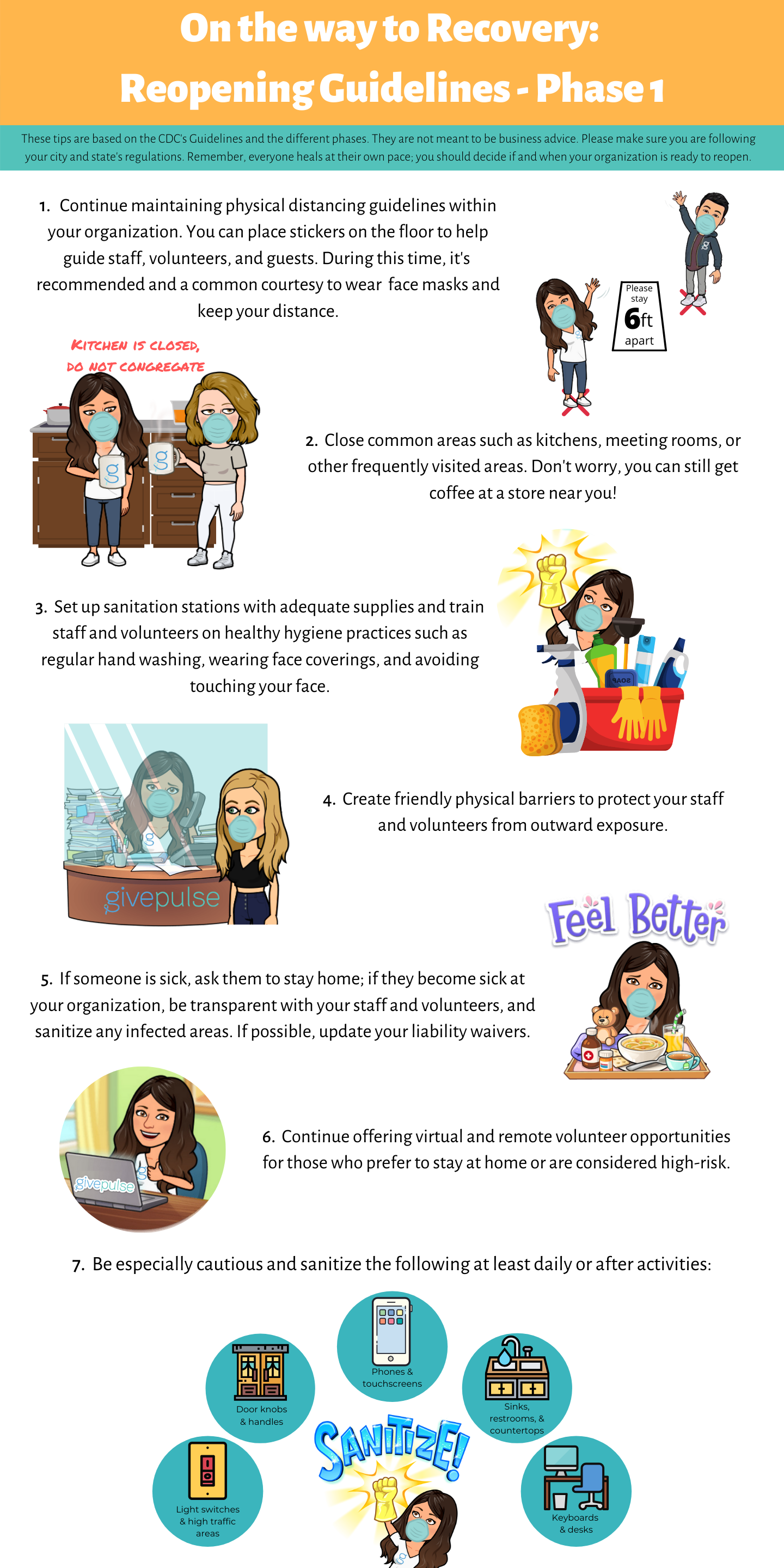 Phase 2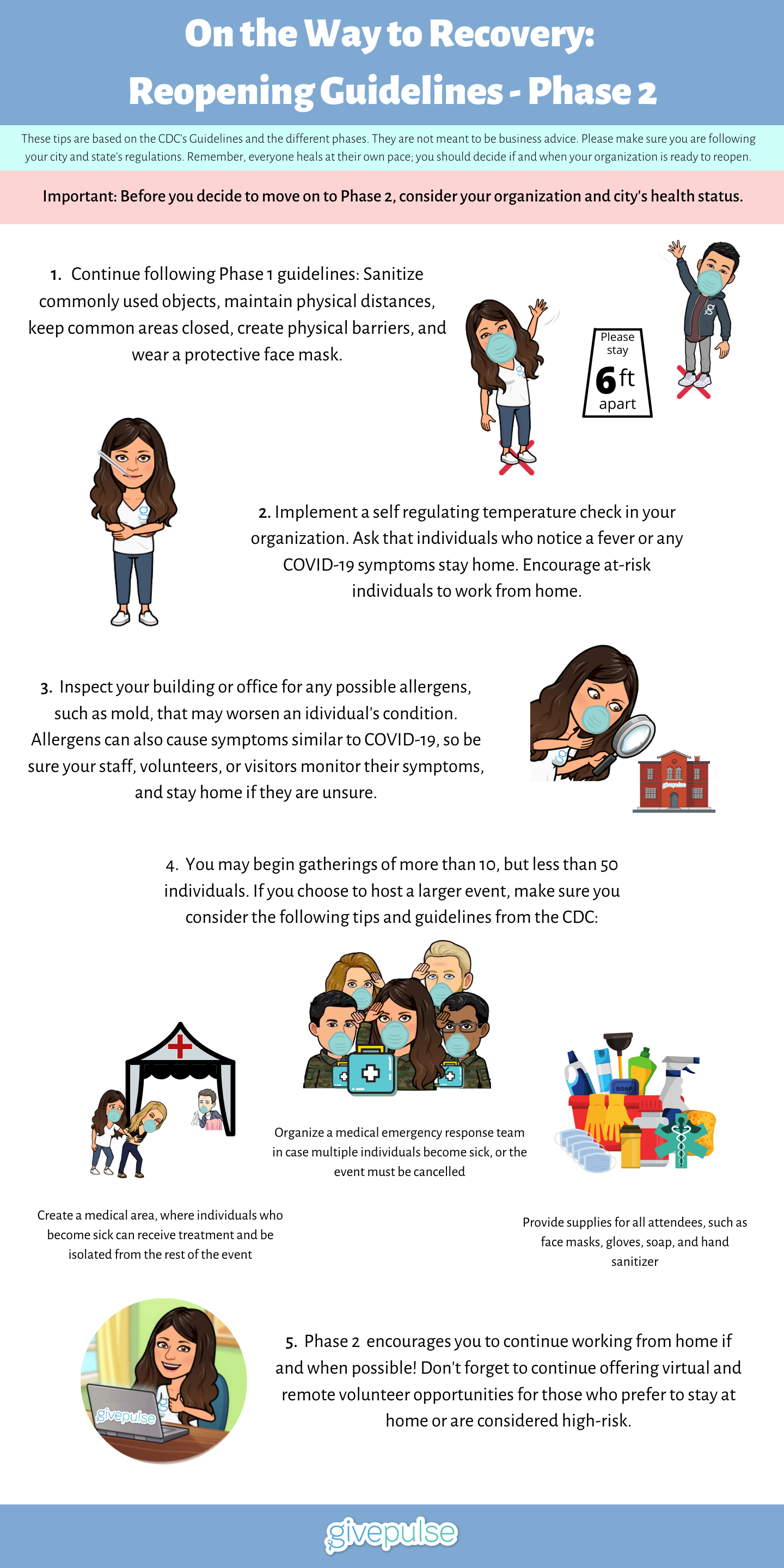 Risk Mitigation
As Bev shows us in the infographics above, preventing the spread of COVID-19 may involve extensive risk mitigation measures. Such measures include the following:
HIPAA-compliant symptom monitoring
HIPAA protects patients' privacy and personal information. Symptom monitoring, such as temperature checks, must be compliant with HIPAA while simultaneously preventing unnecessary risks for uncomfortable or inappropriate situations in the office or workspace. The most effective way to ensure that privacy, HIPAA, and personal comfort are not violated is to request that anyone considering coming to a shared space self-monitor symptoms, particularly temperature. You might even consider providing thermometers to anyone who will be coming in on a regular basis. Check with local health officials to determine whether your system for symptom monitoring is HIPAA compliant, and make sure to bear in mind ways to mitigate risk of uncomfortable or inappropriate interactions if you make the decision to monitor temperature in person.
Contact tracing
Contact tracing is becoming an increasingly prevalent method for rapidly diagnosing and treating new cases of COVID-19. This method identifies all of the contacts with which a newly infected patient has interacted over the past few weeks. These contacts are then warned that they may be ill, asked to isolate, and, if need be, tested for COVID. We will be posting a more detailed guide to contact tracing, including how your volunteer base might be able to help with this method, in the upcoming weeks.
Isolation of cases
For cases in which reopening means also opening communal living spaces, you may need to isolate cases should they arise. Universities, for example, may find that residence halls quickly spread COVID-19. If a student or resident is suspected to have or is diagnosed with COVID-19, there must be measures in place to immediately isolate this case, including an available living space that minimizes exposure risk (for example, public restrooms, kitchens, etc.), options for food delivery in the case that they are unable to procure food for themselves, and how or when the individual will be moved to an alternative location.
Liability waivers
Your liability waivers will need to be updated to reflect the new risks that will be present for those who are entering shared spaces. In your updated waivers, you should make clear what the new risks are, describe any safety precautions that the individual is responsible for (such as providing their own protective equipment, staying home in the case of illness, etc.), and detail the mutual choices that must be made in order to prevent spread in either direction.
COVID-19 task force
Especially if you are unable to avoid larger groups (for example, more than ten people), having a dedicated medical response team or COVID-19 task force ready to respond to medical emergencies is key. This might be a group of individuals who each know a specific role to play in the case that it becomes clear that an individual is ill (for example, where cleaning supplies are, how to clean, etc.), or, in the case of an event, it might be made up of medical professionals. In either case, being prepared for an individual case or an outbreak is crucial.
Safe In-Person Volunteering
Over the past months, we have supported partner organizations as they implemented thoughtful and creative options for their volunteer base to engage with their community while sheltering in place to flatten the curve. Even as the country reopens, many volunteers will continue to prefer virtual options. We hope that our guide to virtual and remote volunteering can help you to plan effective and safe options, and that we can help you to evaluate your organization's readiness to support virtual and remote opportunities.
In addition to these virtual options, organizations may cautiously begin offering in-person options in order to best support the populations they work with. With the above plans and procedures in place, you can work within your organization or partner organizations to come up with some ideas for safe, in-person volunteering. We hope the below ideas will help to get you started:
Creating virtual tours
While you may not yet be ready to reopen with large groups of people, even the most rudimentary reopening will give you the chance to let individual or smaller groups of volunteers create virtual tours. For universities, parks, museums, and science centers, this option can showcase attractions and features that would normally be open to many people at once. This can also be accomplished by asking that visitors and volunteers share their photos; our partners at the Austin Parks Foundation encourage visitors to share pictures through their collaboration with El Arroyo, placing signs with clever safety reminders across their parks and asking visitors to share the images.
Clean-up crews
Similarly, individual or smaller groups of volunteers can enter spaces to help with important clean-up operations. For example, local schools, parks, and cities/municipalities such as our partners at the city of Austin can organize limited and targeted groups of volunteers to safely remove litter that may have accumulated while volunteers were unable to engage in person.
Food preparation and delivery
Food justice is increasingly critical at a time with so much financial instability. For organizations that help to combat food insecurity, such as our food bank partners and campus kitchens from institutions like UGA, the opportunity for a safe reopening may also mean the opportunity to begin operating kitchens and delivery services. With the right safety precautions and options such as curbside pick-up or contactless delivery, the fight against food insecurity can continue with help from the in-person volunteers who make it possible.
Animal care
For our partners at humane centers and animal shelters, reopening can offer the opportunity to bring volunteers back to interact with the animals who most need their care. Dog walking, cleaning pens/cages, and washing dogs are all activities that can be done in smaller numbers and that make a huge difference to the lives of the animals in these shelters. Of course, continuing to promote foster care as an option for those who are working from home will help just as much — our friends at Austin Pets Alive have seen incredible community support for their foster program!
Delivering goods
Our partners at Inspiring Minds had a great idea early into the pandemic: they delivered books and craft materials to the students they normally would be able to tutor and mentor in person. This type of volunteering can continue during a safe reopening! Volunteers can help organize and deliver packages with important materials to members of their community who can benefit from the help. Whether it's children's books and packages with the materials needed for interactive activities, food, or hard-to-find items such as hand sanitizer and toilet paper, there is no doubt that these deliveries will make a world of difference.
Contingency Plans
Perhaps the most important part of planning a safe reopening is recognizing that your plans may change. Information is shifting regularly; experts have warned that states' reopening may lead to new surges, which will alter regulations and guidance.
Remember to include contingency plans as you look forward to a safe reopening. If you will be moving individuals into shared residential areas, make plans for how to efficiently and safely move out large groups of people in a short amount of time; if you will be opening in-person engagement options, consider how these can be continued online or remotely. Prepare for the worst, but hope for the best — and take every step you can to make sure the best-case scenario is truly safe.
Did we miss anything? Let us know by contacting covid@givepulse.com or schedule a call with our team. We want to make sure that we are supporting all of our partners through these challenging and transformative times. We know that our communities are strong, and have seen first-hand how all of our partners have rallied to make necessary changes while still finding ways to better their communities. We are humbled and proud to work with all of you, and look forward to helping in any way we can, now and moving forward.
To learn more about how GivePulse can help you make a difference in your community, schedule a call.