Recently on the blog, we outlined the importance of contact tracing to mitigate the spread of COVID-19, and shared how our partners can get involved. Following on this, we now examine the importance of testing to alleviate the spread of COVID-19 as our communities continue to carefully reopen.
Learning from institutions of higher ed and their rigorous COVID-19 testing schedules, we share how you can apply their testing strategies to your own institution, department, organization, or office environment. We hope that this will help you create a plan to keep volunteers, employees, students, and clients safe.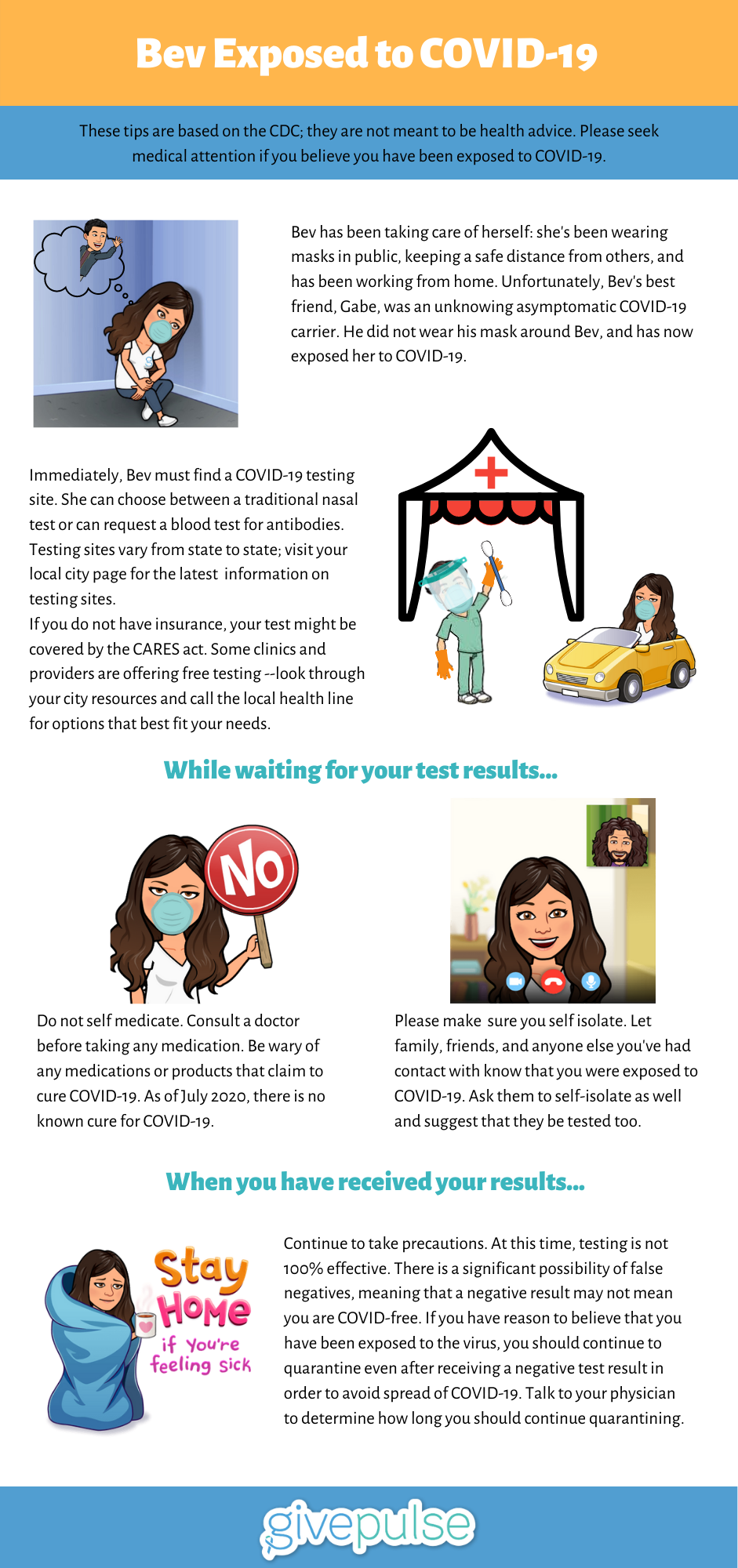 Why is testing important?
Testing is a key element of any plan to safely reopen while minimizing the risk of COVID-19 spread, along with elements such as screening, contact tracing, and isolation of cases. Once screening or contact tracing has identified someone as being at risk for COVID-19, testing can determine next steps and expand contact tracing reliability.
Our screening survey template can help determine when and if to recommend testing; for more information, see our dedicated support article.
Results gathered from testing direct treatment for individual confirmed cases as well as follow-up contact tracing and isolation efforts. Contact tracing can be used to inform anyone who may have been exposed so they can also get tested, stay at home, and monitor for symptoms to prevent further spread of COVID-19.
On a larger scale, testing results serve as an overall measure for how effective current restrictions are in a community, and may indicate the need for additional strategies. Furthermore, obtaining an adequate volume of testing is essential because it allows researchers to more accurately determine virus spread, which helps them create models of transmission that guide how we manage the disease.
Because of this, it is important to encourage volunteers, students, and staff to get tested. In addition, ask that they pledge to follow public health protocols to minimize the spread and decrease the need for testing.
For more information about crucial public safety measures that organizations, businesses, and institutions should take in these times, download our guide to Community Safety During the COVID-19 Public Health Crisis.
Testing and the Reopening Strategy
Organizations, programs, and centers supporting community engagement must be prepared for the possibility that volunteers and community members they work with will show symptoms, and must have a clear plan in place for next steps. Because of this, testing will be a crucial part of reopening for community engagement. In this post, we will help you determine when to recommend testing and what this testing entails.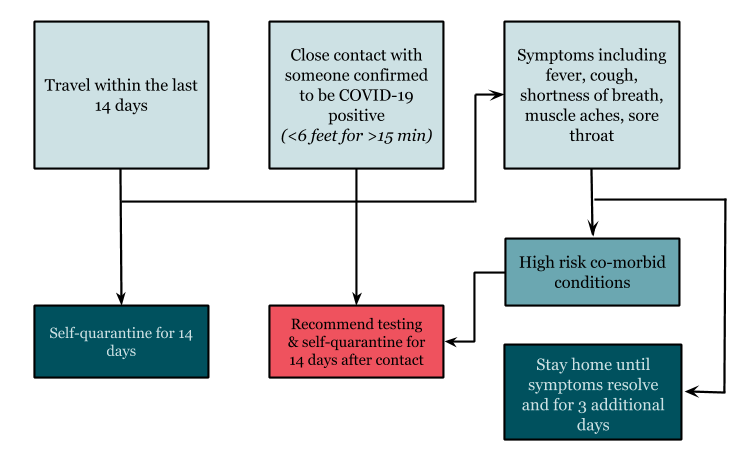 Your organization's testing strategy should be coordinated with local health departments. While you may want to encourage testing for all those who will be engaging in-person, priority goes to any individuals who are symptomatic. These individuals are encouraged to first contact their physicians or local health center. Testing sites are listed on the U.S Department of Health & Human Services (HHS) website as well as on all local health department sites. All close contacts of confirmed COVID-19 positive individuals are also encouraged to get tested and remain in isolation.
What happens when you get tested?
There are multiple paths to testing, depending on your organization's capacity. Some organizations may opt to support testing through at home testing kits, which they can offer at a regular cadence to their staff or volunteers. We discuss this method — and its possible pitfalls — in more detail in the next section.
Others may opt to support an effective screening system and help individuals find their local testing clinic. Your organization can apply screening templates within the GivePulse platform, and in addition create posters and shareable guides relaying the nearest testing clinics. Use the Local Health Department Directory or this list of Testing Sites to learn more about where testing is offered. Make clear to employees and staff whether you offer insurance that covers the test; if not, encourage them to check whether their test is covered by the CARES Act, and let them know that some clinics also offer free testing.
At this time, testing for the presence of the virus is primarily administered through a nasal or throat swab, which is considered the standard to measure an active infection. A blood test can also be done to detect any antibodies to the virus that would result from being infected in the past. Both tests require laboratory processing, which means the time it takes to receive results depends on several outside factors. This time can range anywhere from three hours to five days. As COVID cases continue to rise, this time may increase due to the volume of tests that need to be processed.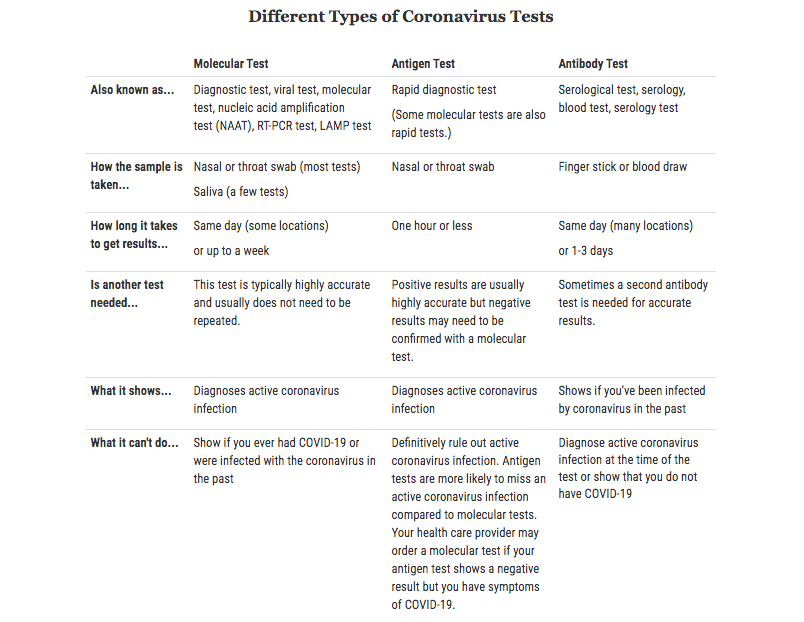 While testing is critical to mitigating the spread of COVID-19, it has its challenges. In particular, we do not yet have a 100% accurate test — false negatives, as well as false positives, have been known to occur, meaning that receiving a negative test result does not mean that you are necessarily COVID-free. If you have reason to believe that you have been exposed to the virus, you should continue to quarantine even after receiving a negative test result in order to avoid spread of COVID-19. Talk to your physician to determine how long you should continue quarantining for.
Meeting the Challenges of Testing
Many K-12 and higher education institutions have had to determine the safest and most effective way to approach testing the large groups of students returning to a campus setting this fall. Widespread testing requires significant resources and planning.
Effective testing plans emphasize widespread testing, transparent guidelines, and public health training. As you update or create your own testing regimen, these are three facets that will be critical to ensuring employee, volunteer, client, and student safety.
For example, our partners at the University of Alabama have laid out clear and detailed guidelines for testing students and staff. These protocols are designed for maximum safety and efficiency. Students are asked to attend specific testing slots based on the last digits of their campus IDs, while employees only need to receive testing if they plan to return to campus. Both students and employees are able to receive testing for free through the specified location, and both have access to public health training that enables them to make safe, informed decisions regarding their personal choices to reduce the spread of COVID-19.
Public health training offers a crucial component of these testing protocols, which can have impacts beyond the campus itself. The communities of higher ed institutions are aware of the possible impact that an influx of students can have on their shared well-being; because of this, testing is crucial not only to individual organizations and institutions, but the broader communities in which they work.
Working With Communities
For higher education institutions, recognizing the community impact of their efforts might lead to partnerships within these communities. In fact, affiliating with community partners can be a key step in making testing efforts more feasible. For example, our friends at the University of Alabama at Birmingham have partnered with the University of Alabama System and the Alabama Department of Public Health to form a coalition with University of South Alabama, HudsonAlpha and Kailos Genetics. This coalition formed a testing plan that would cover not only every student reentering the campus, but also residents in underserved regions of Alabama.
We believe that this community-oriented approach will strengthen communities both in protection against the virus, but also in partnerships moving forward. Campus communities can themselves be leaned on for volunteers within the community.
In these instances, rather than having students sign up for potentially overburdened testing centers in the communities, institutions could support testing on their own campuses. It is important to note that even FDA approved tests are only approved through the Emergency Use Authorization — that is, these diagnostic tests are not technically approved, but can still be used under the Emergency Use Authorization.
Even so, some organizations and institutions may choose to support at-home testing for key members of staff who need to interact with vulnerable community members, or as a crucial first step to add an additional safety precaution. Bear in mind that the most accurate results will still likely come from trained personnel.
Whether you are seeking innovative testing solutions or figuring out how to strengthen ties to the community, GivePulse hopes we can be your thought partners in testing, tracing, and screening. To join the public health task force and work with us on these and other crucial concerns, schedule a call with our success team. While these times are challenging, there is much to be hopeful about. We are here to support you.
To learn more about how GivePulse can help you make a difference in your community, schedule a call.