This post is part of our Spotlight series, where we spotlight our incredible partners. We are so thrilled that GivePulse has been able to work with these nonprofits, institutions, and corporations!
More than 40 years ago, Genentech founded the biotechnology industry with the invention of genetic engineering. Today, they remain a leader in the field, pursuing groundbreaking science to tackle some of the world's most serious medical conditions. Equally as important is Genentech's recognition that science must go hand-in-hand with the greater good, whether that is in the scientific community, patient care, mentoring, or corporate giving.
While they have won awards for everything from their cutting-edge science to their workplace culture, Genentech's dedication to making a positive impact in their community remains one of their most defining qualities. Genentech has been on People's 50 Companies that Care list since 2017, its inaugural year, and has been one of the Top Bay Area Corporate Philanthropists for fifteen years running.
Genentech's emphasis on community good is particularly evident in their mentoring programs in partnership with the South San Francisco Unified School District. Since 2010, the Gene Academy mentoring program has brought Genentech's innovative scientific approach to local elementary schools. In 2015, they expanded this program to Futurelab, which offers mentorship for middle and high school students as well. These local mentoring programs are widely recognized for paving the way in community engagement, winning the prestigious STEM Mentoring and Making award for Excellence in Public-Private Partnership in 2016 as well as recognition for Impactful Philanthropy from the National Mentoring Partnership in 2019.
Futurelab is an intrinsic part of Genentech's company culture. Because of Genentech's investment in their community, 89% of Futurelab volunteers report feeling more connected to the company and to each other through their participation in these programs, and 66% of Genentech employees say that Futurelab contributes to their retention. Before the COVID-19 pandemic, Genentech began to scale the impact made by Futurelab through their partnership with GivePulse to streamline the scheduling, communication and tracking of its various programs.
In this post, we will share how Futurelab has been able to continue strengthening their mentoring programs as they transition from in-person to virtual in the wake of COVID-19. We will first outline each of the three mentoring programs, sharing both how they looked in the past and how they will look in their new virtual format. We will then reflect on how these transitions relied upon Genentech's close ties with their community. Finally, we will share Genentech's plans to continue innovating and scaling with GivePulse, offering a new, hopeful lens through which to understand the transitions necessitated by the COVID-19 public health crisis.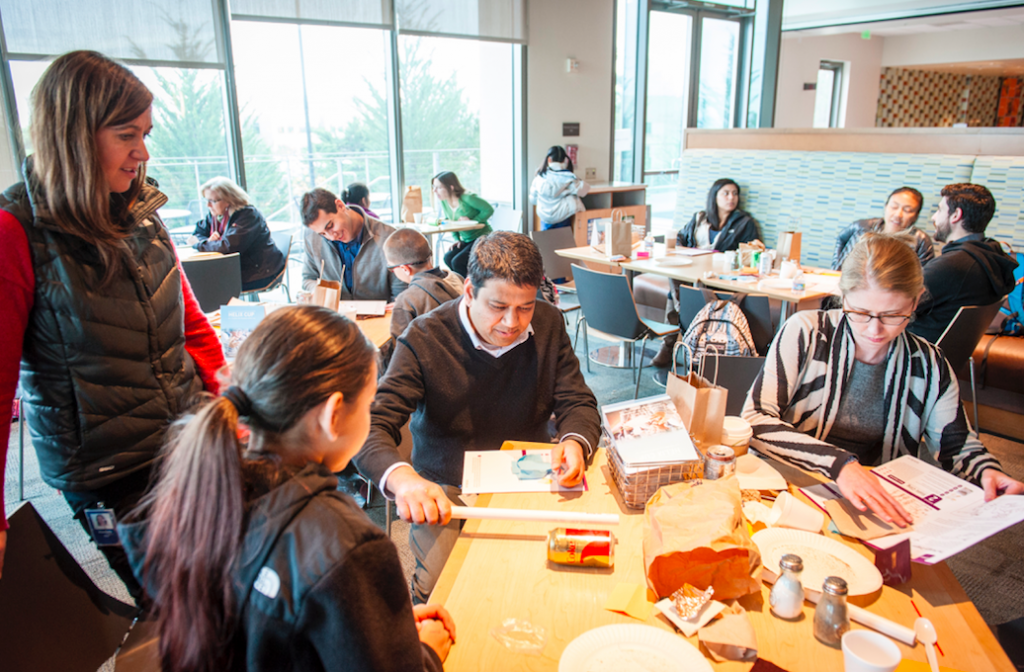 Futurelab Mentoring: Excite, Engage, and Equip — Virtually
Futurelab is comprised of three distinct K-12 STEM mentoring programs, each with its own unique goal. Gene Academy excites elementary students about science. The Helix Cup engages middle school students through a hands-on competition. Science Garage equips high school students for future careers, in and beyond biotechnology. Cherilyn Cabral, Senior Manager of Corporate & Employee Giving, says, "What we're aiming for is that the kids who graduate from our program are science literate and know the importance of science… [and] hopefully some of them will become scientists too."
This fall, Futurelab has had to change their mentoring programs in a way they never anticipated. Their in-person, hands-on programs are transitioning to entirely virtual opportunities in response to COVID-19. However, their goals to excite, engage, and equip students remain the central facets of each program. "The way we are approaching this is to keep the goal of each program intact," Cabral says. "The delivery is what changes." Volunteers will continue to schedule and sign up for opportunities through Genentech's partnership with GivePulse — only now, the experience will be remote and virtual.
This transition will not alter the emphasis on long-term and hyper-local impact. Cabral says, "South San Francisco is rich in underrepresented groups we hope will one day work at a place like Genentech." In order to achieve this goal in the changed landscape of the COVID-19 pandemic, Futurelab has had to be adaptive and responsive, without losing sight of the most important elements of these mentoring programs.
"The kids who graduate from our program are science literate and know the importance of science."
Gene Academy: Excite
To that end, each of the programs has responded differently to the pandemic. Gene Academy, an after-school mentoring program for third through fifth graders, seeks to excite students about science. Previously, students came to Genentech once a week to participate in activities that use their natural curiosity to get them excited about science.
"We have kept intact the consistency and continuity of interaction."
Now, Gene Academy will support this same natural curiosity through virtual mentoring. Students will be paired with volunteers; these pairs will then read a high-quality science article and send digital letters back and forth responding to the article. This digital pen-pal program will allow for thoughtful discussion, natural curiosity, and individualized connection. "We have kept intact the consistency and continuity of interaction," says Cabral.
To foster excitement among the students, the science articles are divided into units that culminate in a related project. Through this consistent interaction and tiered, engaging content, Gene Academy will continue to build on students' natural curiosity to excite them about science.
Helix Cup: Engage
Helix Cup offers a chance to engage this excitement through a competition to counteract the falloff in science interest in eighth grade. This same competition will take place this year — only now, teams will work together virtually. "They will be building something as a team, so they need to make sure they are communicating with each other," says Cabral. "That's another challenge for the students, who are currently isolated at home."
Luckily, they won't be in this alone; the students will have help from Genentech volunteers, who will offer design consultations and provide data analysis guidance to decide on the best materials and model for the projects. There will also be a new element to the Helix Cup: oral presentations. Cabral is excited about this addition to the evaluation process. "In science, you always have to communicate," she says. "Why did you make that mistake? Why did you choose that material? What did you learn from this? We do that at Genentech, and it's important to get that started early."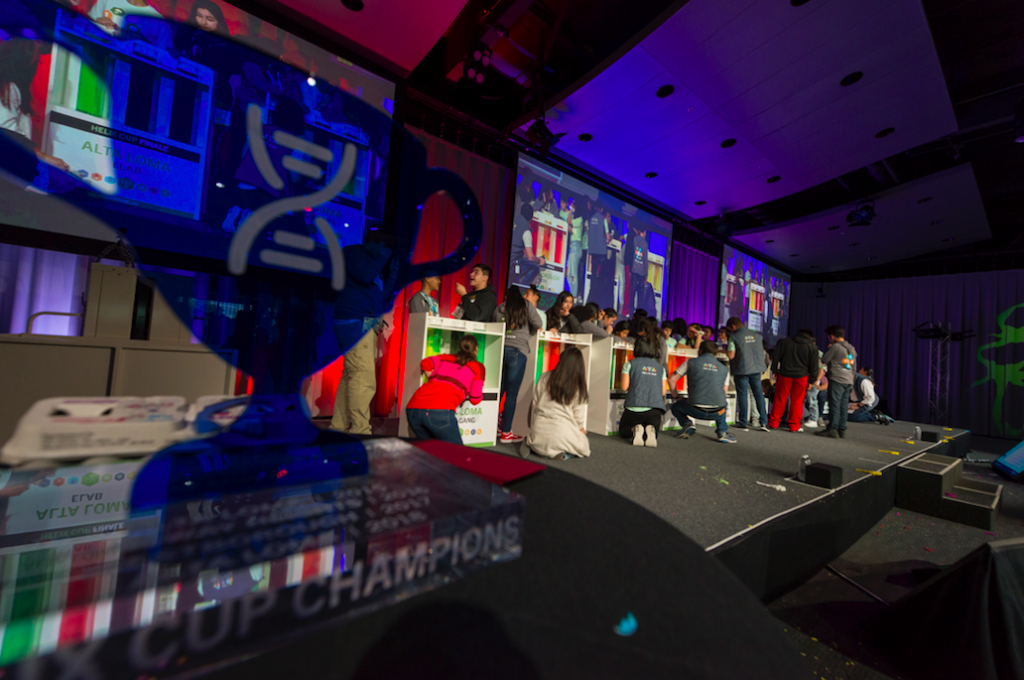 "They will be building something together as a team, so they need to make sure they are communicating. That's an additional challenge."
Science Garage: Equip
Science Garage equips students with the tools they'll need in college, no matter what degree path they take. In this four-year program, students previously got access to state-of-the-art equipment at the Science Garage biotech lab and classroom and learned lab techniques from pipetting, media prep, and chromatography to other skills like data analysis useful in and beyond Genentech.
Realizing that Science Garage could not possibly include all of its usual features, Futurelab sought to emphasize the most impactful elements and put their energy into creating virtual versions of these.
This led to the creation of two main events: a biotech field trip and a poster session. The poster session involves input from Genentech volunteers during the poster creation and research, student presentations to practice their scientific communication skills, and feedback from volunteers on the presentation. During the virtual biotech field trip, students will hear from Genentech employees about their career journeys across the different functions they work on — research, development, manufacturing, and commercialization.
In addition to learning about these four stages that lead from the creation of the medicine to its delivery to patients, students will have opportunities for career conversations online via the GivePulse Zoom Integration, where they can learn about career journeys and gain a stronger understanding of what an employee does.
Responding to community needs
Over the course of transitioning to virtual mentoring programs, Futurelab needed to consider several elements. The first, and most critical, was how to respond to the changing needs and challenges within their own community. "We can move fast," Cabral says, "but there are bigger challenges at the [South San Francisco Unified School District] than what we are trying to do… At the end of the day, the school district and Genentech agree — the students need us now more than ever."
"We rely on the support of our teachers. We cannot move forward with these programs on our own."
The Futurelab programs are not just about academics — they are also about social and emotional factors. During these times, this aspect has become even more critical. In a period of significant disconnection and isolation for these students, "another adult that really cares about you is important," particularly when some students may not have parents at home who have the time or capacity to check in on schoolwork. "Focus on the connection," says Cabral. "They don't have to learn all of these science concepts by the end of the program — it's making sure the students feel like they're cared for, and they're connected to someone else."
Security, too, has become of the utmost importance. "We have to protect the children," Cabral says. All mentoring interactions will be monitored by a teacher; for the younger students, there will be no video interactions, and the digital pen-pal letters will be moderated by a Futurelab team. Maintaining compliance with the Children's Online Privacy Protection Act (COPPA) is critical, as is ensuring that students are safe in these online interactions.
"The way we are approaching this is to keep the goal of each program intact. The delivery is what changes."
Meeting the needs of the students is critical; equally important is meeting the needs of the teachers. "We rely on the partnership with our teachers," says Cabral. "We could never move forward with these programs on our own." With teachers potentially overwhelmed by changing expectations for distanced or hybrid learning, recognizing the elements that can remain the same is important. For example, rather than creating a new competition for the Helix Cup, Futurelab will be using the same egg drop challenge that teachers are familiar with from previous competitions. Maintaining familiarity where possible, while adapting where necessary, helps all stakeholders to be involved in the implementation and success of their mentoring programs.
Making an impact through innovative mentoring
Genentech, as a biotech company, sees challenges and uncertainty as the jumping-off points for learning and growth. In line with this way of thinking, Futurelab recognizes that the challenges of these times encourage innovation and growth. "I think we are able to really focus on more impactful events and do them more efficiently," says Cabral.
Futurelab volunteers are learning crucial skills for engaging audiences virtually — skills that can carry over beyond mentoring. The volunteers have to be "very dynamic" in their online interactions, Cabral says; "You have to double your engagement factor when you're doing it online. That's a skill you can apply to work — how to interact virtually." Volunteers understand the relevance of their work in Futurelab — 87% of volunteers reported feeling that their skills are strengthened through Futurelab.
To teach these new skills for a virtual environment, Futurelab has had to alter its trainings. Rather than the one-time training offered in previous years, Futurelab will now feature multiple bite-sized trainings, with tips and tricks throughout the year.
Training volunteers effectively for this new reality is of the utmost importance to the students: Cabral notes that during the virtual sessions, "You can't step out; you're in it. You have that one and a half hours to engage that student. If you don't engage that student, you've lost that opportunity."
"The students need us now more than ever."
Because of this, Futurelab volunteers will need to make sure they can schedule and commit to consistent engagement. For example, all Gene Academy volunteers will need to write their digital pen-pal response letters every week. "If there's no letter uploaded, it's very hard to explain why your mentor didn't write you a letter," Cabral says. With the GivePulse Google Calendar Integration, volunteer schedules are synchronized with their office/work calendar to simplify management and coordination efforts.
Looking ahead: Opportunities to scale mentoring programs
With the help of their community and platform partners, as well as the innovations and learnings from this new period of volunteer engagement, Futurelab is looking ahead at the possibility of scaling to include more school districts in their virtual efforts. There are several different ways this scaling could look in the near future. One is expanding beyond the South San Francisco Unified School District to offer an online version to students across California. Another is scaling the virtual opportunities to other Genentech sites across the United States.
"These could very well be our next generation of scientists and innovators."
All of these mentoring programs, whether in-person or virtual, aim to change some staggering statistics: only 6% of United States high school students pursue a STEM degree in college. Additionally, underrepresented minorities make up 27% of the country's population, but 11% of the STEM workforce. One-third of students lose interest in STEM by fourth grade. By eighth grade, that number jumps to fifty percent. Genentech hopes their efforts will help increase the diversity of the STEM workforce, particularly given that 90% of the students in the South San Francisco Unified School District are people of color.
Genentech's work is clearly of the utmost importance. And with all that they're learning from the challenges of COVID-19, they may be able to expand their mentoring programs throughout the San Francisco Bay Area and beyond. For Futurelab, the story of their COVID-19 response is one of hope — hope that will strengthen communities and lay the foundation for the future. As Cabral says, "These could very well be our next generation of scientists and innovators."
To schedule a demo or to learn more about how you can use GivePulse for your own CSR program, schedule a call with one of our success managers.