In our most recent product update, we unveiled our new GivePulse branding and introduced platform updates and new features outlined below.
---
Badging and Tasks
With our updated badging and task feature, we are helping to enable group admins to utilize the feature to distinguish volunteers, groups, students and more. With our "Add Task" workflow, you can automate the process of badging.
New Task Types: Admins can now distinguish badges based on task types triggered by an action. If a user hits 100 impacts, completes a survey, or participates in an Experiential Learning course, you can create badges to be added to users' dashboards as they complete the task type.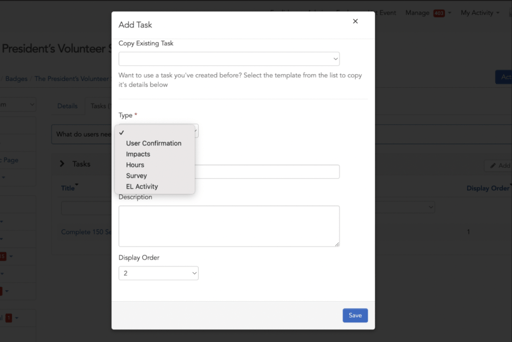 Policy and Verification Control: Have full control over where your badges show up for users. Decide which users, groups, or events are eligible for specific badges. Create event-specific badges or badges extending to your entire network.
---
Timesheets
We took your advice and updated our timesheets to include more information, longer descriptions, questionnaires and more. With the new timesheet layout, easily include or remove hours or impacts for things like lunch or personal tasks to make sure that impacts are tracked correctly.
Impact Custom Fields: Previously, timesheets only had three fields, restricting the amount of data you could collect from impact forms. With our updated timesheets, there are now five variable fields allowing you to include questions and decide what is included in the timesheet.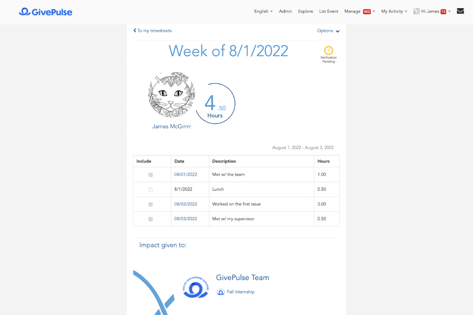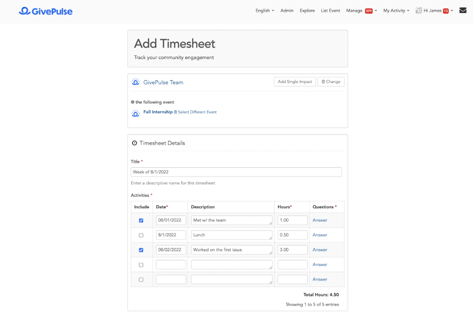 Multi-line Descriptions: Allow you to be more detailed in your descriptions of logged hours.
Exclude Options: Exclude hours for things like lunch or personal tasks from the impact.
---
Transcripts
Previously, transcripts could only be customized at your network's top group/level. Now, each subgroup has the option to configure the look and feel and content of transcripts when exporting a user's hours with respect to their group.

New Data Groupings: You can now choose to group data by group or chronologically, with more groupings coming soon.
Filter by Network Verified: You can now export a transcript and configure it to include only network-verified impacts.
New Columns Available: The user's impact reflection/notes can now be included in transcripts. The verified date and person have been combined into a single column, so you can remove the verified column if you do not want it included. In the future, you'll also be able to add an impact custom field.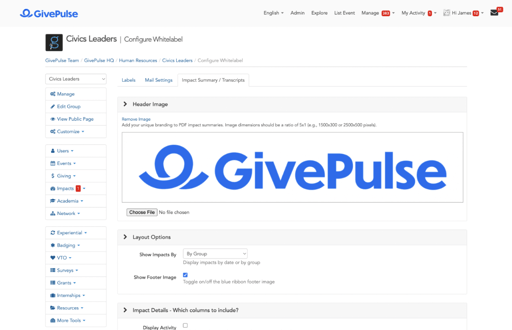 ---
Add Event Flow
Our updated event flow makes it quicker to fill out required fields like your address. We have helped condense the flow and have made it a quicker and more efficient experience for users.
Cover Image Library: We added a new image library of 19 new creative and modern designs to fit your event type. You are still able to upload your own image to use for your event or group.
Address Input: With an updated smart address, we make it easier for you to enter in your information. Start entering your address and a dropdown will appear for you to choose from.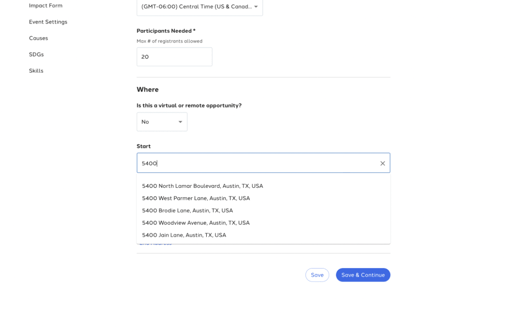 ---
Points
The point system was one of the first things we integrated into our platform. This year, we are updating the point system to show more specific data sets, integrating it with tasks and adding event level points, allowing you fine grain control over your point system and data collection.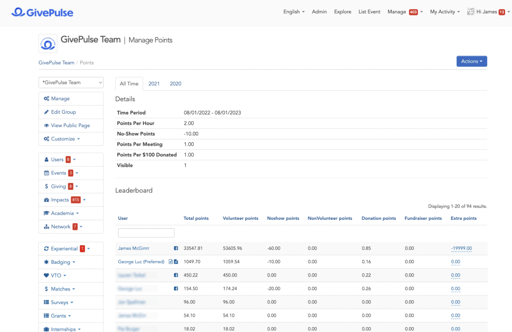 Event level points: Add a specified amount of points to any event. Give users points per hour served, dollar donated, or meetings attended.
Timeframes / Leaderboards: With the updated points system, rather than seeing all-time accumulated points, you can see points based on certain timeframes allowing you to get a better understanding of your data on a yearly, monthly, or weekly basis.
Integration with tasks: Integrating points with tasks allows you to determine the number of points logged once a user completes a task.
---
Registration Flow
Our main goal for redesigning the registration flow was to help streamline registration for users regardless of familiarity with the platform. Each step of the process has an updated clean design and only requires the necessary information from users.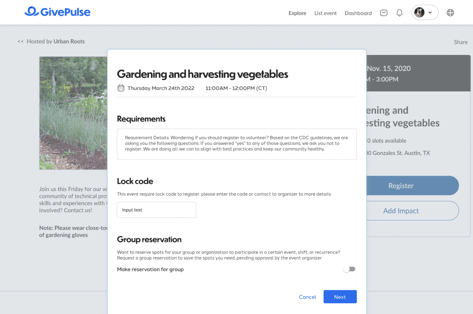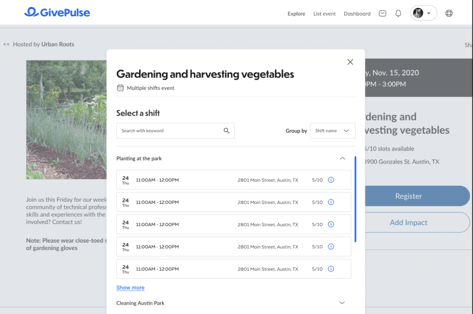 Modal window for the registration process: When clicking "register" on an event, a modal window will pop up, navigating you through the registration process.
Fewer steps: The updated registration workflow limits the steps and amount of information users have to input, resulting in a smoother and faster process.
Improved search for shifts: A new search bar within shift registration allows you to find shifts by keywords, rather than searching the entire list.
---
Updated User Dashboard
We have updated the complicated user dashboard with multiple drop-down options into one cohesive and an easy-to-navigate dashboard that combines user, group, event, impact and more into one location.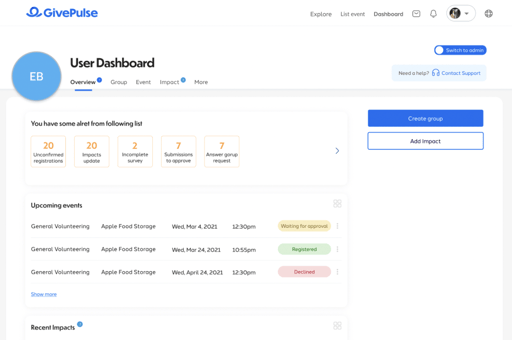 Overview page based on your activity: The updated dashboard is based on your personalized user activity.
New structure: We replaced multiple drop-down menus with a single "dashboard" button, helping to eliminate unnecessary steps in workflows.
Increased functionality and design: We updated the design and made the dashboard easier to find and navigate among individual users, events, groups, and more.
---
About GivePulse
GivePulse's mission is to enable everyone in the world to participate and engage in lifting their community to new heights. We do so by providing a platform to list, find, organize and measure the impact of service-learning, community engagement, philanthropy, corporate social responsibility and volunteerism.
Founded in 2012 in Austin, Texas, GivePulse works with 650,000+ groups, including colleges and universities, nonprofits, businesses, K-12/school districts and cities and municipalities. Together, we connect millions of people in an effort to create positive social change.
Start making a difference today by visiting www.givepulse.com.
Interested in bringing some of our newest features to your subscription? Check out some of our Add-on features or schedule a call today!