We are excited to announce the GivePulse Mobile App 3.0! Learn more here.
We are excited to introduce you all to our new mobile downloadable iOS and Android app. The GivePulse Mobile App 2.0 comes packed with additional capabilities to allow a seamless search and discovery process for events and groups, an easier tracking experience for community engagement, and a consolidated inboxing system to organize all communication on the go!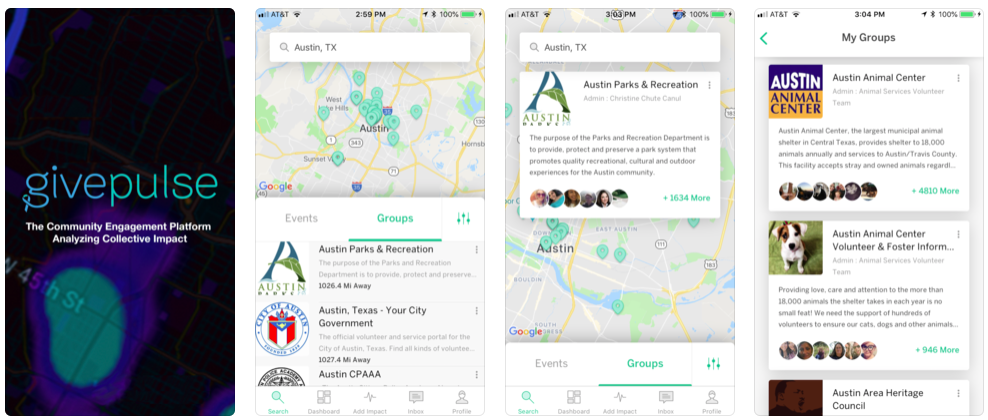 We designed and developed this GivePulse iOS/Android app for Volunteers, Members and Administrators (who can use its inboxing feature to communicate with their volunteers). The mobile app is supported to work on iOS and Android devices (phones and tablets). On this post, we will focus our energy sharing key areas we think is important for all users!
Fun Fact: We currently have 2 downloadable apps in both the iTunes and Google Play store. One is for individuals (volunteers or members of organizations to browse and track their engagement, and we recommend admins to use it for communication). This is the focus of the blog post. The other one, called GivePulse Sign-In (is meant specifically for admins, checkin attendants, or site leads to sign-in individuals on the go or in kiosk-mode so volunteers can walk up to sign-in or even clock in/out).
Login
When using the new GivePulse Mobile App 2.0, users will have a few options to login or authenticate as shown below: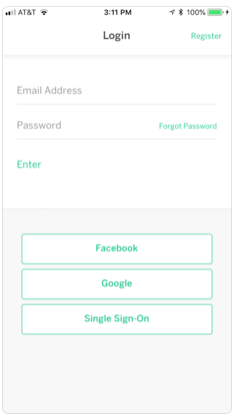 Over the course of the past year, this is by-far the biggest improvement to our mobile downloadable app. As shown on the left, we now include multiple authentication options (namely Single Sign On) to support the diverse set of users GivePulse supports. With these abilities, we are able to ensure our enterprise clients can encourage their communities to log in with existing credentials. This will protect them from duplication of data, accounts and a number of different security factors. We believe having these options will provide a single access point for all users to login seamlessly.
Fun Fact: You can login to any of the options available (Email, Facebook, Google and SSO). If there are multiple accounts created, these accounts can be merged together so all authentication methods end up on the same account/profile. In the case you want to register without using the existing authentication methods, you can press the "Register" option at the top. This workflow will drop you into a few steps to complete.
Navigation
When logged in successfully, you will be able to see the following at the bottom navigation (these options appear at the top for android):

As shown above, these are what we believe are the most important menu options to help navigate in the app. You can tap on any of the following –
Search: Allows the end user to browse and search for regional events and groups to register or become a member of
Dashboard: Pulls together a list of groups you are a member of, upcoming events registered to, previously attended events, etc., This can be used as a quick way to track and confirm your engagement
Add Impact: Allows individuals to track their engagement. If their administrator decides to ask additional questions or specific details of the activity, these will be populated too
Inbox: Allows individuals to communicate back and forth within the app. People who receive messages will get push notifications every single time there is a new message
Profile: Pulls together a list of details to summarize the individual's engagement in the community
Search & Browse
On the "search" experience, you will immediately access a map/list view of local events and groups in your region.
Fun Fact: If you decide you want to search a larger radius, you can "pinch" the screen so that it will zoom in or out. Pinching will also increase the search radius too! Note, we haven't launched in all the cities yet, but we do anticipate to do so with your help!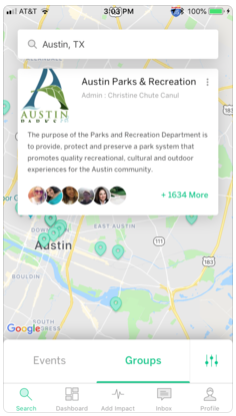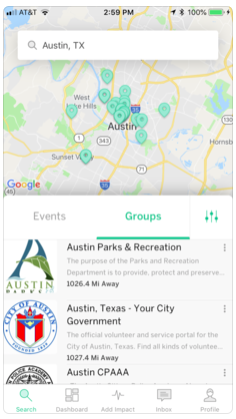 The map and list views are interactive, meaning users can drag up and down the list view and see a whole map view in the background. Users can also choose to browse through the normal list view without the map. Whenever there is a specific event or group of interest, the user can tap more to see the details. A modal will be displayed to show some details of the event.
Dashboard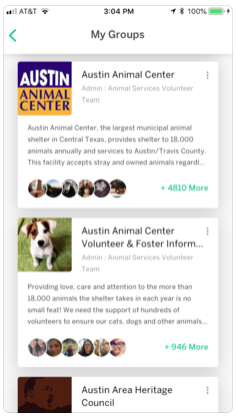 In the case, the user has existing memberships or groups they are a interested in, they can navigate to the "dashboard" shown on the right.
The dashboard helps aggregate together the groups and events the individual is associated with. This will make it easier for the user to quickly access these on the go.
In many instances, an individual primarily will use the app to register to an event, join a group or discover new experiences. Beyond this, the secondary actions include tracking one's engagement and interacting with those on the platform to organize the logistics of the events.
Add Impact
As shown below, you are able to search and select organizations to track your engagement (be it service hours or other outputs):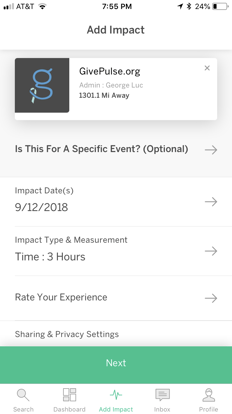 This workflow will continue to evolve as we learn more about its usage. With this in mind, we anticipate adding new enhancements in upcoming versions to streamline the tracking process.
Now moving forward, individuals can leverage the mobile app to track their engagement on the go. Since we encourage accurate data tracking, there is a workflow established which requires users to fill in the basic information: e.g., the group has to exist, an event is optionally associated (and dependent on the group admin's setting), and the date and outputs must be inputted to go to the next screen.
Fun Fact: There are potentially additional questions the admin can add into the workflow, like adding qualitative custom fields. For example, when administrators want to add reflection questions or a scale to determine user feelings or sentiment, custom fields can be applied to the workflow too.
Inbox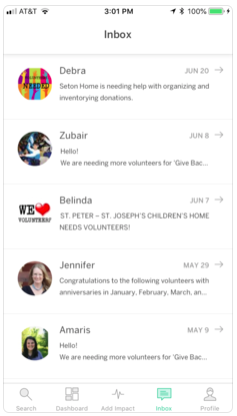 We conclude this post by introducing you to the Inbox! The mobile downloadable app now has an inbox that can organize all your conversations on the go.
For example, if you were a volunteer who reached out to the organizer and wanted more details on the event, you can now do this within the app. Or, if you were an admin, responding back to volunteer questions, or doing message blasts with all your constituents, you can now do so again on the mobile app!
The inbox benefits individual volunteers and the administrators. With this in mind, we recommend all GivePulse users to download the app to manage conversations to improve response rates.
Fun Fact: If you receive a message, you will be notified by a Push Notification…way better than an email and it is free from SMS charges!
We believe the inbox will be a great foundation to let all users respond back in a efficient manner.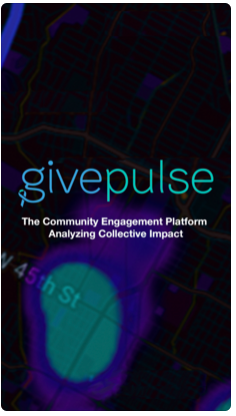 And there you go, that's a skinny! From the search experience to the inbox experience, we have rewritten our existing app with a 2.0 release. There is still waaaaayyy more to come and we are excited to give you a glimpse of version 2.0. Hopefully we have also given you a few hints towards what may be coming soon on our roadmap! For those who want to be a part of the roadmap, please contact our product team at product@givepulse.com
Remember, there are 2 apps we support: 1) predominantly for volunteers, which this blog describes, and 2) another focused on allowing admins and event managers to track who signed in or as a way to expose a kiosk mode to allow people to "clock in and out".
We continue our goals to innovate in this space. We believe with these new additions, we are one step closer to help our partners understand their impact in the community!
And… if the above was too long to read…
TL;DR
Below are a few of the benefits to using the iOS or Android downloadable app.
Volunteer, Member, Participant, Registrant
Login (Gmail, Facebook, email or even Single Sign On – your institution or business's internal authentication/sign in method)
Discover, browser and search events and groups to join
Register or cancel registration of events
Answer custom fields or questions requested by admins
Review profile and manage your Dashboard of events and memberships
Manage events you are registered to (Dashboard)
Oversee your memberships (Dashboard)
Communicate and message people (Inbox)
Contact the organizer, planner or admin
Add impact (service hours & reflection) to any group or event
To download the iOS app for volunteers: https://itunes.apple.com/us/app/givepulse/id633874815
To download the Android app for volunteers: https://play.google.com/store/apps/details?id=com.givepulse.givepulse
Note (we now advise admins to download the primary app which includes both admin and end user capabilities).
Admin & Event Manager
Sign in folks on the go
Put the app into Kiosk Mode and Clockin/out folks
Verify one's hours/activity
For support on the mobile app or to learn more about how GivePulse can help you make an impact, schedule a call with our success team.