With the GivePulse mobile iOS and Android app, community engagement and volunteer management are easily facilitated from the palm of your hand. Over the past year, we've built on our 2.0 version of the app to develop version 3.0, improving core functionalities while also making updates to meet the needs of public health and virtual volunteering.
In this post, we will cover the following functionalities of GivePulse Mobile App 3.0:
Ability to browse, register and track engagement to events and volunteer opportunities
Public health symptom tracking mechanisms
Administrative abilities to track attendance and sign in or clock in participants on the go
Touchless kiosk mode for scanning QR Codes
To download the app on your phone or tablet, click here for iOS users and here for Android users. For an overview or more information on the mobile app, chat with us here.
The Basics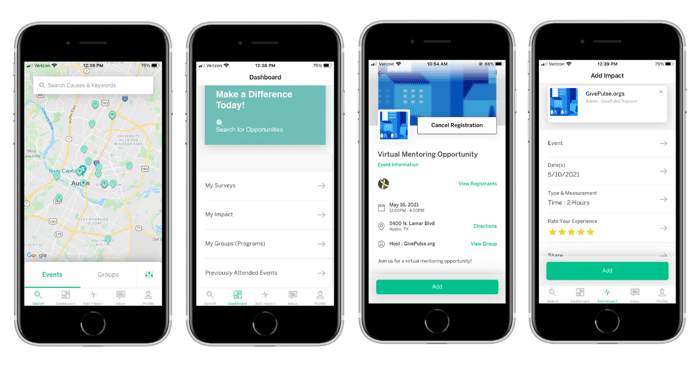 Logging In
Authenticate into the GivePulse app via Apple, Facebook, Gmail, Single Sign On through an institution, or an email/password combination.
Navigation
Once logged in, you can access the following:
Search: Search from a map or list view of the local region
Dashboard: Review group memberships, upcoming events, survey invitations, classes, and more
Add Impact: Track engagement on-the-go by adding an impact and testimonial
Inbox: Communicate back and forth with others within the app, receiving push notifications for new messages
Profile: Review essential account information and toggle between Admin and Browse views
(Note: this navigation differs for administrators; to view this, tap Profile and then select Switch To Admin. We discuss this in greater detail below in the Administrative Management section.)
Manage Event Registration
Register directly to events and opportunities from the app. Registrations are maintained on the app under Dashboard, where you can manage, update, or even cancel any registration as needed.
QR Codes
The GivePulse app provides a unique QR code for each account to simplify kiosk sign-ups and clock-ins via the mobile app's scanner ability. See below for more information.
Administrative Management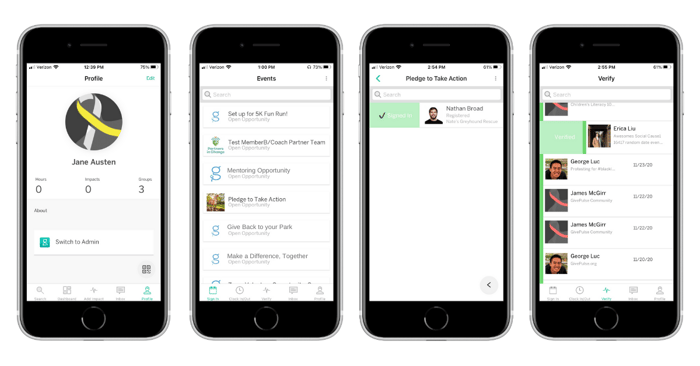 Switching between admin and browse mode
If you are a group administrator, you may want to use the app to manage volunteers, donors, and events. From the profile page, a user can tap "Switch to admin" to gain access to the admin dashboard.
Navigation
Once switched to the admin dashboard, you will see the navigation options for Sign In, Clock In/Out, Verify, Inbox, and Profile.
From here, you can do the following:
Sign In: Select an event to sign a participant in to an event, automatically adding a verified impact
Clock In/Out: Similar to sign-in, track the times when a participant enters and exits an event by the second
Verify: View a list of all impacts awaiting your verification, and simply swipe right to verify and left to dispute
Inbox: Communicate with your constituents on the go
Profile: Review and edit essential account information and switch between Admin and Browse views
Signing in and clocking in
For on-the-go management of volunteers and event attendees, signing and clocking in participants allows you to easily keep track of engagement for reporting purposes. Admins can also use the QR codes generated for each account to sign and clock in users through "QR Scanner" mode.
Kiosk Mode
Enabling Kiosk Mode allows folks to sign themselves in for an event. In kiosk mode, volunteers can swipe themselves in or scan their QR Code.
Verifying impacts
To ensure accurate data and reporting, swipe to the right to indicate that an impact is verified, or swipe left to dispute.
Advanced Capabilities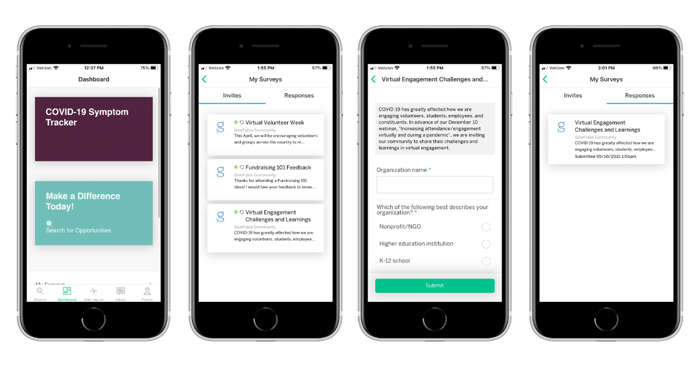 Surveys
Tap on a survey to quickly fill it out from the palm of your hand, making it easy to fill out necessary information for an event, such as a symptom check if the event is in person.
Dashboard (Global) banners
Subdomains can add global banners that will populate on the app for all members of that network. Example use cases include asking students to register for an upcoming orientation, or requiring that a symptom tracking health check be filled out daily. We look forward to continuing to improve our mobile app to make volunteering and managing community engagement on the go easier than ever. We are always excited to hear from our partners about how we can learn and grow, and encourage you to schedule a meeting if you have any suggestions or concerns!
—
To download the GivePulse mobile app on your phone or tablet, click here for iOS users and here for Android users.
For support on the mobile app or to learn more about how GivePulse can help you make an impact, schedule a call with our success team.